Set Sail St. Barts for Men by Tommy Bahama matches the company brand well. That is living the island life.
This fragrance is inspired by island-inspired living in the Caribbean and beaches. If you can capture that in a bottle of cologne, then Tommy Bahama did that here.
This is a nice summer cologne that smells like a tropical drink.
As an Amazon affiliate, I may earn commission from any qualifying purchase that you make from clicking a link to Amazon. This is no extra cost to you, and it helps to keep the site running.
Details
| | |
| --- | --- |
| Brand | Tommy Bahama |
| Fragrance | Set Sail St. Barts |
| Release Year | 2007 |
| Fragrance Family | Citrus Aromatic |
| Concentration | Eau de Cologne |
| Gender | Masculine |
| Size | 3.4 oz (100 ml) |
What Does St. Barts Smell Like
The opening smells salty, citrus and aquatic. This comes from the lime and ocean notes. It also has a boozy quality to it which is by design. There are notes of Tequila and Guava which provide that.
At first, I get a blast of acidic lime juice. It quickly moves into sea salt and fresh ocean air. The salty air is not overly prominent. It hides in the background as a supporting note. There is also a tropical and boozy scent as well. There is a hint of a Pina Colada, and it moves to a sweet musky vanilla. The base notes are not loud and very present. They seem to blend everything together. The fragrance from start to finish is short lived.
Some reviewers compare it to coconut lime verbena, and I can understand that. Although there is no coconut note listed, there is a faint hint of that scent.
It smells like you think it should. Overall, the fragrance is really nice, and it does the job. It will put you into vacation mode for sure. This aqua perfume for men is nice and tropical.
It gets compared to Creed Virgin Island Water, but they do not smell similar at all.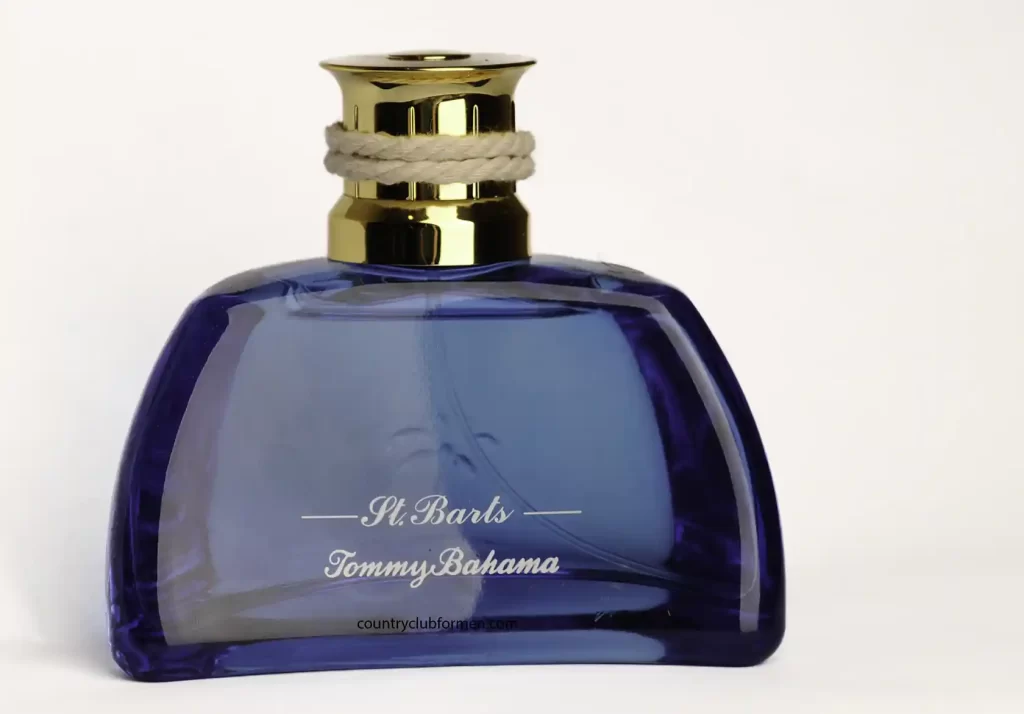 Notes
Top Notes: Lime, Trade Winds, Sea Notes
Middle Notes: Blue Agave Tequila accord, Guava, Sea Vine
Base Notes: Palm Leaf, Vanilla, Musk
Presentation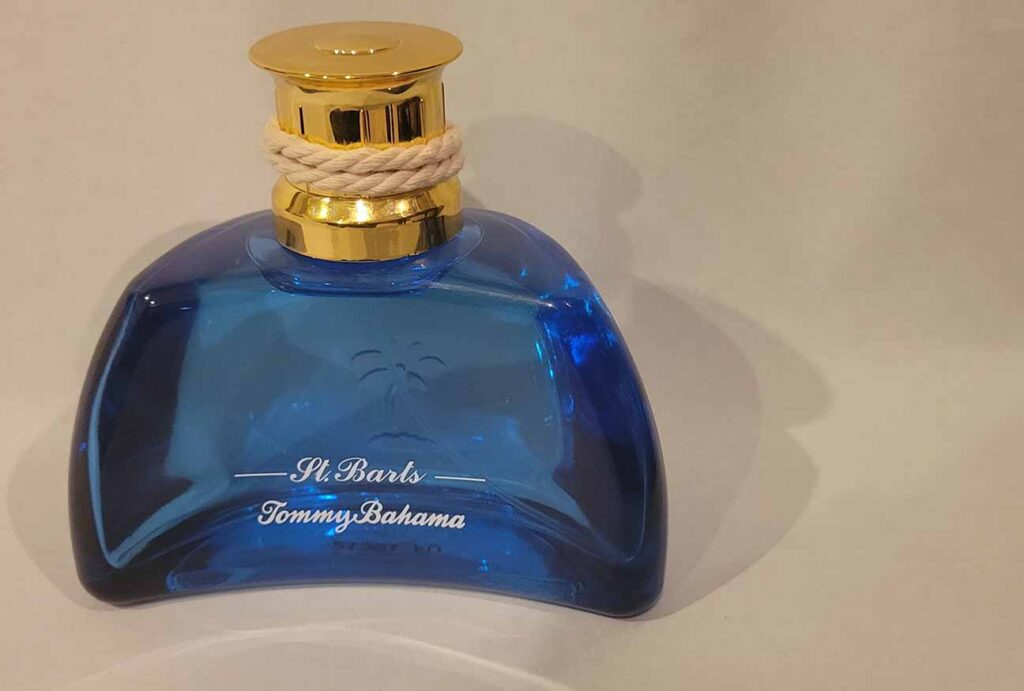 For the cost of this fragrance, the presentation is outstanding. It comes in a nice box that is lined in gold stripes. The bottle has a unique shape, and it is a blue color. The cap is gold and it is wrapped in string. The bottle has a plam tree etched on one side of it.
The other side lists the name Tommy Bahama St. Barts in script font.
The box and bottle looks like this is a more expensive fragrance.
St. Bart's Longevity
I can get around 3 to 4 hours with St. Barts cologne. It does not have the best longevity. You should expect this from a fragrance that is inexpensive. This depends on your skin, as there are guys that rate this as a strong. For me, it falls on the weak side.
Projection
This is not a cologne that is strong. It has weak to moderate sillage. This is fairly common for a citrus fragrance though. I can get around 30 to 45 mintues of decent projection. After that it is basically a skin scent.
If you want better sillage, you are going to have to go heavy on the sprays. Think about 10-15 sprays all over your body.
When To Wear St. Barts Cologne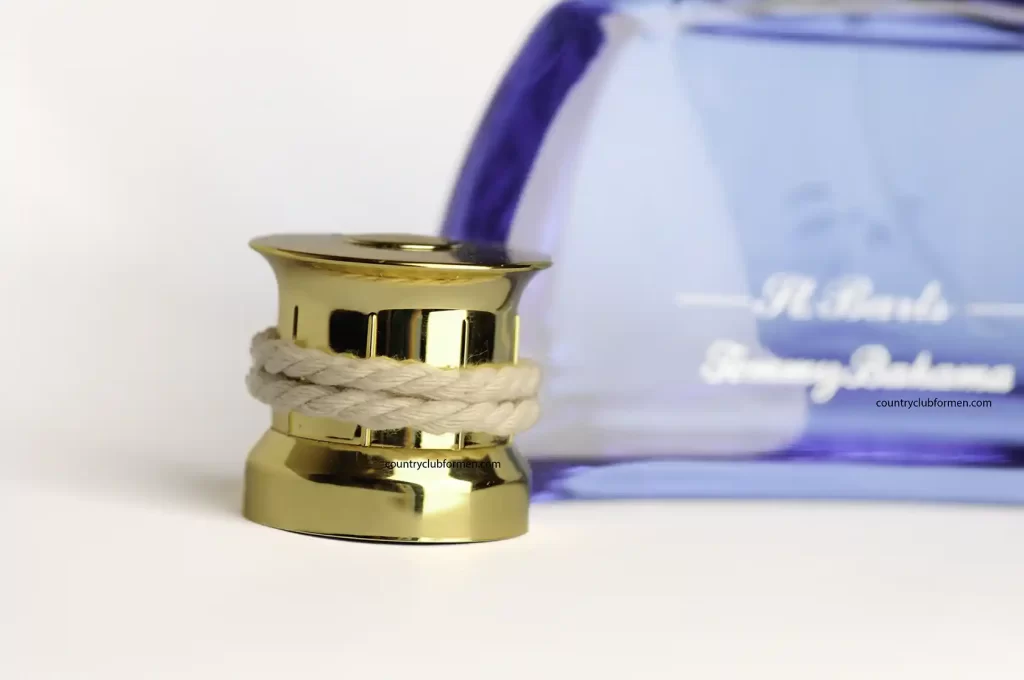 St. Barts is a great cologne for casual summer wear. The lime is really uplifting and the salty notes and booze will remind you of a tropical vacation or a beach trip. You can wear it on your summer trip to get into full vacation mode. This will also work well when you go hang out at the pool. This is perfect when you break out of the winter slump, and you have that first day of high heat. Spray this on to get into the summer mood. It will make you happy.
If you are in shorts and flip flops, then you can wear this cologne. I like to wear this when I go to the pool. I can smell it up to the point of diving in. Yes, it will wash off when I get into the water, but that doesn't matter because it is so inexpensive.
Due to its low cost, you can also use this is a room spray, etc.
What We Like
Affordable Price
Perfect for summer vacation
What We Don't Like
It does not last a long time.
Bottle design is difficult to hold when spraying
Price
You can get this for around $20 at rack stores like TJ Maxx or some online fragrance discount stores. Amazon carries it, but at the time of this writing, they are selling it for close to full retail price. You can purchase it from there, but you may end up paying 3 times the price.
Who Should Buy It
If you need a tropical cologne, then Tommy Bahama Set Sail St. Barts is the fragrance you need. This is not a versatile scent. If you want something to bring you into summer, then get this.
This cologne smells great, and I will purchase another once mine is empty.
Yes, that is a short list. I dont see this is an office cologne, and it does not really work for any formal occasion.
Other Options
Tommy Bahama St. Barts Eau de Toilette smells great and is low cost. If you are looking for a more expensive version that smells somewhat similar, you can take a look at Creed Virgin Island Water.
If you want a low cost dupe of that, then you can get MRIS No. 2973. This is another low cost fragrance that has a tropical and beach scent to it.
Nautica Voyage is another budget aquatic fragrance if that is something you are looking for. It is not tropical, but definitely fits the low cost option for a fresh smelling aquatic.
Overall Rating
| | |
| --- | --- |
| Review | Tommy Bahama St. Barts |
| Summary | Tommy Bahama St. Barts is a great tropical summertime cologne. It smells like juicy tart lime, tequila, and soft vanilla musk. |
| Author | Country Club For Men |
| Rating | 4 (out of 5) |