This fragrance was made to invoke the Creed family's memories of sailing the Mediterranean. It has a marine like quality to the scent. It is described as invigorating seas, salty air, and citrus breezes. And it does that. This is a unique smelling fresh aquatic.
If you have never sailed on the ocean, then you can capture that scent with a bottle of this.
It is listed as a chypre, but it smells like a fresh aquatic. It even made our list of top smelling aquatic fragrances.
What does Erolfa mean? Erolfa is formed from the letters of the letters of the families name. ER is for Erwin Creed (son), OL is for Olivia Creed (daughter), FA is for Fabienne Creed (wife).
As an Amazon affiliate, I may earn commission from any qualifying purchase that you make from clicking a link to Amazon. This is no extra cost to you, and it helps to keep the site running.
Details
| | |
| --- | --- |
| Fragrance | Creed Erolfa |
| Brand | Creed |
| Fragrance Family | Chypre |
| Gender | Masculine |
| Perfumer | Olivier Creed, Pierre Bourdon |
| Release Year | 1992 |
| Concentration | Eau de Parfum |
| Sizes | 50 ml, (250 ml), (500 ml) |
What Does Creed Erolfa Smell Like
When you first spray Creed Erolfa, you get scents of lime, salty air, and Ambergris. It smells like you are sitting on the beach smelling fresh ocean air. Over time, the musk and Ambergris becomes more prominent. The citrus notes are noticeable in the opening, and it has a melon scent. This is fruity smelling unlike Millesime Imperial.
The citrus seems to last a long time. I can smell them for almost an hour which is good for citrus notes. This cologne is salty and fresh. This is not like your average cheap or moderately priced freshie.
Some people will compare Creed Erolfa to Millesime Imperial, but to me, they do not smell similar at all.
Creed Erolfa Notes
Top Notes: Bergamot, Lime, Melon, Lemon, Greens, Caraway, Violet
Middle Notes: Pine, Herbal, Ginger, Jasmine, Pepper, Cyclamen, Nutmeg
Base Notes: Ambergris, Musk, Sandalwood, Cedar, Oakmoss
Presentation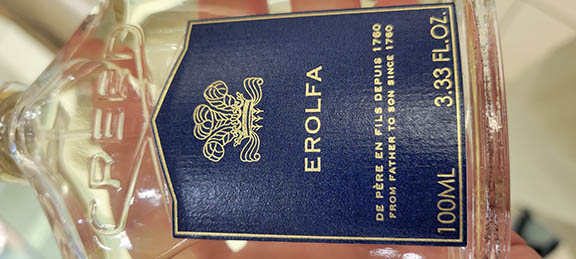 They way Creed packages their fragrances is classy and upscale. Erolfa comes in a white box with the gold logo. The Creed Erofla is in gold font on a blue background. It is all around nice looking. For the price you are paying, it should be.
The bottle is your standard Creed flask. It comes with gold lettering on a blue background. The cap is gold colored as well. The top of the cap has the crest on it. Some previous versions had a blue top.
The atomizer works well, and it does a great job of pumping out a lot of fragrance.
Longevity of Creed Erolfa
Creed Erolfa lasts about 4 to 7 hours. It is probably one of the weakest Creed colognes. For an aquatic, it is good. This is one of the downfalls of this fragrance. Some guys rate the longevity a little shorter. If you are paying top dollar for a Eau de Parfum, it needs to perform well.
Projection
Erolfa has a moderate projection. It is decent for a fresh aquatic cologne, but it does not have strong sillage. For such a high cost, I would hope for a little more projection. The knocks against this are its performance and strength. They are average at best.
When To Wear Creed Erolfa
This is a casual fragrance. It works great during summer months. Erolfa is a solid choice when you are wanting to get into the fresh ocean air mood. I like to use it on hot summer days. It is heavy enough to wear in the early months of Fall. For me, it is not something I would wear in the cold months.
It has some versatility to it. While it is best for casual wear, you could also get by wearing it to the office, etc. It is a nice fresh fragrance that is easy to wear.
You may get some compliments here and there, but this is not going to be a compliment machine like an Aventus.
Price
You can purchase this from Creed Boutique online, and it costs around $300 to $400.
Who Should Buy It
If you love Creed Boutique, then you will like Erolfa. Creed is into fresh fragrances, so if that is something you like, then you are good here. If you like the idea of an aquatic cologne, but want something that is a little more unique and niche, then this is the perfect choice for you.
If you are looking for a compliment getting Parfum, then you need to grab Aventus or something else. You may get some from time to time, but it will not happen a lot.
Just because you already have Millesime Imperial does not mean you shouldn't get this. They are not the same. I would say Erolfa leans more on the masculine side.
This will work for most any age. The biggest setback for this will be finding it at a good cost.
If the cost is too much, then we recommend L'eau d'Issey Pour Homme which is a more affordable aquatic style fragrance.
Overall Rating
Creed Erolfa is a nice smelling aquatic cologne for men. Many celebrities including Kodak Black, David Beckham, and Sean Penn wear it.
| | |
| --- | --- |
| Review | Creed Erolfa |
| Summary | Creed Erolfa is a niche fragrance that is a unique take on aquatic fresh colognes. It smells like a fruity, salty blast of Ambergris. |
| Author | Country Club For Men |
| Rating | 4.0 (out of 5) |