Acqua Di Gio Profumo by Giorgio Armani is an aquatic fragrance. This fragrance was inspired by the ocean waves hitting black rocks. If you love the composition of the original Aqua Di Gio, then you should like this. Being about 20 years newer, it will also be more modern.
This cologne is advertised as a "Intense And Adventurous Fragrance." It is sophistication in a bottle. This is by far the most popular flanker in the Acqua Di Gio line.
It shares the same style as the original, but the addition of incense and patchouli makes this a serious fragrance.
As an Amazon affiliate, I may earn commission from any qualifying purchase that you make from clicking a link to Amazon. This is no extra cost to you, and it helps to keep the site running.
Details
| | |
| --- | --- |
| Name | Acqua Di Gio Profumo |
| Brand | Giorgio Armani |
| Concentration | Eau de Toilette |
| Fragrance Family | Mineral Aromatic Aquatic |
| Gender | Masculine |
| Release Year | 2015 |
| Perfumer | Alberto Morillas |
| Sizes | 2.5 oz (75 ml), 4.3 oz. (125 ml), 6oz (180 ml) |
What Does Acqua Di Gio Profumo Smell Like
Acqua Di Gio Profumo opens with fresh and invigorating bergamot with a slight note of incense. After that you can smell rosemary and sage with a slight bit of mint. The base that follows is an amazing scent of smoky incense as the citrus notes fade away.
This is a more upscale and sexy fragrance over the original that is great for evening wear. I think of sensual, refined, and classy when I spray this on my skin. Acqua Di Gio Profumo is one of the best aquatic fragrances on the market.
This fragrance will get you compliments in any setting. This smells more mature and seems to be for guys in the over 25 crowd. If you are younger and can pull it off, then go for it.
Acqua Di Gio Profumo Notes
Top Notes: Sea Notes, Bergamot
Middle Notes: Rosemary, Sage, Geranium
Base Notes: Incense, Patchouli
Presentation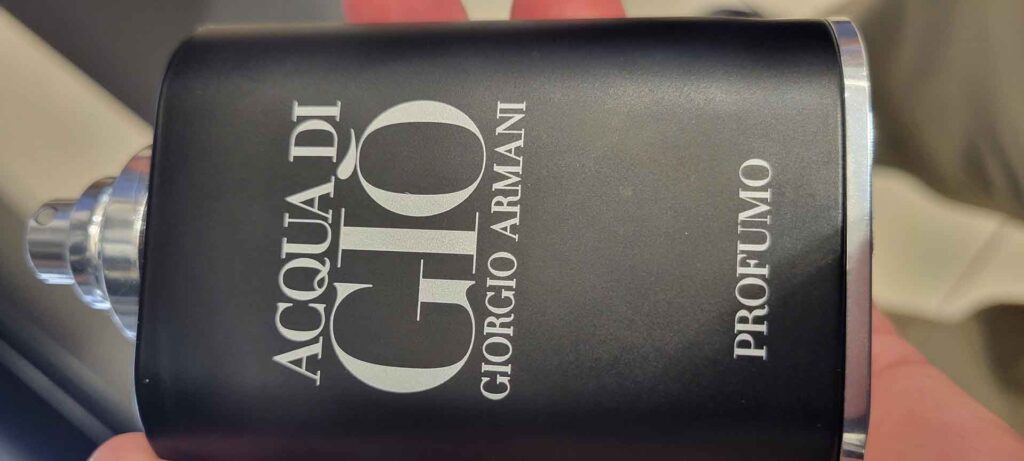 If you want to inspire sea waves splashing against black rocks in the Mediterranean, then no better way to do that than with a black bottle.
The presentation for Profumo is masculine and classy. The black bottle with silver lettering looks like pure class. The black cap also has a ring of silver around the bottom. Newer bottles will have a snap top (non-magnetic cap) and the old ones will have a magnetic cap. The box design is identical to the bottle.
The atomizer is good, and it does the job.
How Long Does Acqua Di Gio Profumo Last
The longevity of the current formulation is moderate to strong. A lot of guys will look at this rating and think it is low. Older bottles of this performed great. It had strong projection and it lasted long. Today's formulation is not quite as strong.
Profumo lasts for about 6-7 hours.
Projection (Sillage)
You can get around 1 hour of solid projection. During this time the sillage is around 3 feet from the wearer. This is based off of the current formula. If you can get an older bottle, it is stronger.
Price Comparison
You are going to pay between $100 to $150 dollars depending on the size that you get. The 6 ounce is definitely the best value. It is only slightly more than the 2.5 ounce. If you have tried a sample before and like it, the larger bottle is the way to go.
When To Wear
The perfect time to wear Profumo would be a summer night at the beach. It is also appropriate for a date, job interview, or anytime you want to feel formal and classy. It is also versatile enough to wear in a casual setting, but I like it for night time.
Should You Buy It?
This is a signature fragrance that every guy should have. If you love the original, but want more of a formal night time scent, then you need this.
Acqua Di Gio Profumo Samples
You can get samples in a couple different ways. You can ask the salesperson at a department store for a sample. Most of the time they will give you one. They will also give you their card in case you return for a purchase.
You can also get samples at Scent Split.
What We Like
Smells Fantastic
Unique And Upscale Scent
Good Longevity
What We Don't Like
Not As Versatile As Original
Other Options
If you are not looking for a mature and upscale fresh scent, then the best option would be to grab a bottle of Acqua Di Gio by Giorgio Armani. It is the best selling cologne of all time for a reason. If you like the sound of Profumo, but want something more versatile, then this is a great choice.
Overall Impression
There was a rumor that it was being discontinued. In 2022, Giorgio Armani said that Acqua Di Gio Profumo is not being discontinued.
| | |
| --- | --- |
| Review | Acqua Di Gio Profumo |
| Summary | Profumo is a great smelling aquatic fragrance with fresh notes of Bergamot and masculine notes of Incense. |
| Author | Country Club For Men |
| Rating | 4.3 (out of 5) |