Acqua Di Gio For Men by Giorgio Armani was the original aquatic fragrance of the 1990's. This spawned a whole generation of fresh and oceanic colognes that dominated an entire decade.
This was a powerhouse at release, but it has been reformulated. If you get a bottle today, it is not quite the same. It is still a nice cologne. For a fragrance that was released over 20 years ago, it can smell a bit dated. Acqua Di Gio inspired so many other fragrances for men, so it is not a unique scent anymore.
This is one of the best selling colognes for men of all time.
Even though it has been reformulated and not as strong, it still smells good. You may want to get a bottle of it just to be nostalgic. If you have never owned this cologne, it is a solid choice to add to your collection.
This is a great smelling aquatic cologne. It is iconic and nostalgic. It changed the fragrance game.
Overview
| | |
| --- | --- |
| Fragrance | Acqua Di Gio Pour Homme |
| Brand | Giorgio Armani |
| Concentration | Eau de Toilette |
| Fragrance Family | Aromatic Aquatic |
| Gender | Masculine |
| Release Year | 1996 |
| Perfumer | Alberto Morillas, Annick Menardo and Christian Dussoulier |
| Sizes | 1 oz. (30 ml), 1.7 oz. (50 ml), 3.3 oz. (100 ml), 6.7 oz. (200 ml) |
What Does It Smell Like
Acqua Di Gio Pour Homme smells like citrus mixed with salty ocean air in the opening. The calone provides a nice melon scent as well. What makes this cologne so popular is the opening. If you can imagine a guy spraying this on his wrist in a department store, and immediately buying it. It did not become the biggest selling cologne in history by having an average opening. It is invigorating and pleasing.
It has a fresh and clean scent to it, but not like in a cheap shower gel way. It is classy, sophisticated, yet casual enough to wear almost anywhere.
The mid notes that come out the most are white florals like Jasmine. These floral notes are prominent, but with the sweetness of all the citrus notes, it becomes very aquatic.
The base is a nice musk and cedar. It has a smooth and comforting dry down.
This is a compliment getter, and you will impress almost everyone around you. People who have been into fragrances for over 20 years will likely recognize this one though. While it is still popular, it is not overly popular that many guys will be wearing it around you.
This is also safe and a crowdpleaser. It is smooth throughout the life of the fragrance, so it should not offend anyone.
Wear it in confidence even though it is dated. It still smells fantastic, and you will get lots of compliments on the scent. It is safe enough for a blind buy unless you do not like fresh aquatic colognes.
Notes
Top Notes: Lemon, Lime, Bergamot, Orange, Neroli, Jasmine
Middle Notes: Sea Notes, Calone, Jasmine, Peach, Rose, Nutmeg, Coriander, Violet
Base Notes: Musk, Cedar, Oakmoss, Amber, Patchouli
Presentation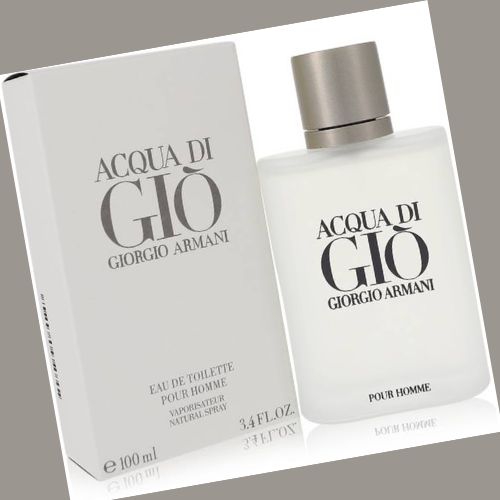 The frosted glass bottle with the silver cap is easily recognized as iconic. So many guys have purchased and worn this. It would not be unusual for guys to go through multiple bottles of this back in the day. Also, due to being one of the biggest selling men's cologne of all time, this bottle is easily known.
Longevity
The longevity of the current formulation is moderate. Due to being reformulated, it does not last as long as it used to. Therefore, it gets a moderate rating.
You will see some reviews that have this as a strong cologne, but you will see just as many that rate it as weak.
Projection (Sillage)
You can get around 1 hour of solid projection. During this time the sillage is around 3 feet from the wearer. This is based off of the current formula. If you can get an older bottle, it is stronger.
The sillage smells nice and is universally appealing. Almost everyone that catches a scent of this as you walk by will like how you smell.
Price
The price ranges from around $50 for the 1 ounce bottle to a little over $100 for the 6.7 ounce bottle. I do not really recommend getting the 1 ounce size. For a little more, you can get the larger sizes.
This is available almost anywhere that colognes are sold. You can still find it in department stores as well as online.
You can get it for a good price at Amazon. Acqua Di Gio Pour Homme at Amazon.
You can also get it for a good price at FragranceX with a coupon code. Giorgio Armani Acqua Di Gio at FragranceX
When To Wear Acqua Di Gio EdT
This is a scent that can be worn anytime of the year. Due to the style and note breakdown, most guys will wear this during the summer months. The fresh, salty air, and citrus work so well in the heat.
It is so versatile that you can dress this up or dress it down. You can wear this in a suit or shorts and flip flops.
What We Like
Incredible Smelling Opening Notes
Most Popular Cologne Ever
What We Don't Like
It Is Worn By Too Many Guys
Too Many Similar Colognes Now
Overall Impression
Acqua Di Gio Pour Homme by Armani changed the cologne market. This is still popular today even though some tenured fragrance collectors will call this a "dad scent."
I still like this, and it smells great. It is not unique anymore due to all the other colognes that this inspired over the years. It is not as strong as it was years ago, but it's still solid. If you want a more modern version, then we recommend Acqua Di Gio Profumo cologne for men.
This iconic fragrance is a must have for any collector.
| | |
| --- | --- |
| Review | Acqua Di Gio For Men |
| Summary | One of the most popular colognes for men, Acqua Di Gio should be in everyone's collection. It is a fresh smelling aquatic fragrance. |
| Author | Country Club For Men |
| Rating | 4.5 (out of 5) |