One of the top colognes of the 1990's was L'Eau d'Issey Pour Homme Issey Miyake. This is the ultimate perfect for any occasion fragrance. Even though it is dated, it is still good enough to wear today.
This is known as a summer fragrance, but you can pull it off year round.
This Eau de Toilette makes out list of the best aquatic cologne for men.
Issey Miyake is a fashion designer from Japan. He mentored under great perfumers like Guy Laroche and brands like Givenchy.
Details
| | |
| --- | --- |
| House | Issey Miyake |
| Year Released | 1994 |
| Gender | Masculine |
| Concentration | Eau de Toileltte |
| Fragrance Family | Woody Aquatic |
| Perfumer | Jacques Cavallier |
| Sizes | 1.4 oz, 2.5 oz. (75 ml), 4.2 oz., 6.8 oz., |
What Does L'eau d'Issey Pour Homme Smell Like
When you first spray L'Eau d'Issey, it smells like a blast of Yuzu and lemon. It also has a clean, aquatic, and soapy smell. After the initial notes of citrus, there is a nice floral and soft wood touch.
The citrus smells tart and almost sour at times. The sourness has been a criticism from some, but it does not last long on me.
There is also a powder note that lingers throughout. It dries down to a leafy green vetiver and musk.
It is not overly masculine due to floral notes, so it leans a little more unisex to me.
It has a lot of different notes, but I cannot smell most of them. The ones that stand out to me are citrus, nutmeg, lily, and vetiver.
Overall, it smells great. This is a timeless classic that is still relevant today. The opening is tart and fresh. Sometimes it comes off as a nice masculine cologne, and other times it smells floral and powdery. That is what makes this unique. It is not a linear freshie.
L'eau d'Issey Pour Homme reminds me of Acqua Di Gio because it is one of the leading fragrances of the 1990's.
L'eau d'Issey Pour Homme Notes
Top Notes: Yuzu, Lemon, Bergamot, Calone, Orange, Coriander, Sage
Middle Notes: Nutmeg, Lotus, Lily of The Valley, Cinnamon, Geranium, Saffron
Base Notes: Musk, Vetiver, Cedar, Tobacco, Amber
As with a lot of colognes that were released in the 90's, this is heavy on the amount of different scents.
Presentation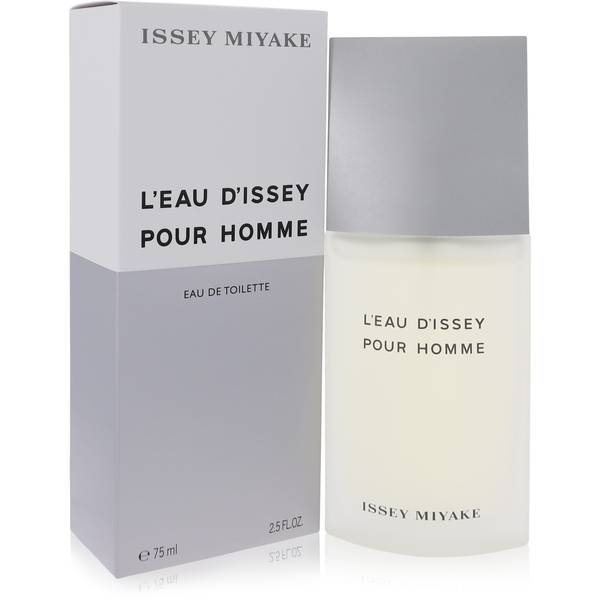 L' Eau d'Issey comes in a signature looking frosted bottle with a silver top. The box also comes in a two-toned silver. I like the shape of the bottle because it looks unique in my cologne collection.
It is an unmistakable looking bottle that is unique. This is recognizable by any guy who was into fragrances in the 90's and after.
How Long Does L'eau d'Issey Pour Homme Last
This cologne has good longevity, especially for a citrus dominant scent. I have seen ranges for 8 plus hours for a lot of guys. For me, I can get around 6 hours of staying power. If you have a bottle before the reformulation, you are in luck. The original version seemed to last longer.
Projection
L'Eau d'Issey Pour Homme has moderate to strong projection. The sillage is around 3 to 4 hours. It leaves a nice scent trail that most people find pleasant. For a lower cost cologne, this has solid performance. You will smell fresh and clean to every person that comes within a couple of feet from you.
Price
Because it is an older fragrance, you can get it for a decent price. In addition, it comes in smaller sizes which helps with the price. The 1.4 ounce is usually under $25, and the 2.5 ounce is ususally under $40. These are great prices for one of the most popular colognes of the 1990's.
If you can get a bottle, you should. This is worth a blind-buy if you can get the small bottle. The best price I have found is at Fragrance X. Check the current price of L'Eau D'Issey Pour Homme here.
When To Wear L'eau d'Issey Pour Homme
This cologne is recognized as a top summer fragrance for men. It is best suited for daytime in warm weather, and it is a casual fragrance. It is versatile enough to be worn in almost any setting though. Personally, I would not recommend this for a date night. If you have the right personality, you could pull it off though.
This is an easy reach in warm weather. You can dress this up or down, it is so versatile. It is a super safe fragrance, and it can get you some compliments.
If you are in need of a fresh cologne for the hot months, then this is an easy blind buy.
Overall Review
| | |
| --- | --- |
| Review | L'Eau d'Issey Pour Homme |
| Summary | L'Eau d'Issey Pour Homme is a great smelling aquatic cologne. It smells fresh and soapy at first, and then it dries down into florals with vetiver and powder. |
| Author | Country Club For Men |
| Rating | 4.3 (out of 5) |