One of the many flankers for Voyage, Heritage is an underated scent. There are not many reviews of it. The note break down is a little different than the original. This is more of a herbaceous and sweet cologne.
While being more of the sweet side, it is still a fresh aquatic with that clean shower gel type scent. This is one of the newer releases, but you can still find it at a lot of rack and discount stores.
Some guys will compare this to Nautica Voyage Sport because of the clean, simple scent profile. To me, Heritage is more of an herbal fresh smelling cologne instead of a citrus dominant scent like Sport.
As an Amazon affiliate, I may earn commission from any qualifying purchase that you make from clicking a link to Amazon. This is no extra cost to you, and it helps to keep the site running.
| | |
| --- | --- |
| Fragrance | Nautica Voyage Heritage |
| Style | Woody Aromatic |
| Brand | Nautica For Men |
| Release Year | 2018 |
| Gender | Masculine |
| Concentration | Eau de Toilette |
| Sizes | 3.4 oz. (100 ml) |
Nautica Voyage Heritage Scent
Voyage Heritage smells like a sweet and warm version of the original. It also has a fresh and soapy smell. Overall, a sweet and clean shower gel smelling cologne.
It opens up fresh and aquatic. This inlcudes a bit of sweet mint along with rosemary. Sometimes I can detect a bit of spice from the Ginger and Lavender.
The dry down is woody notes mixed with lavender. What is missing in the note of musk that is almost all of the other Voyage flankers.
Notes
Top Notes: Mint, Rosemary
Middle Notes: Lavender, Ginger
Base Notes: Sandalwood, Guaiac Wood
Presentation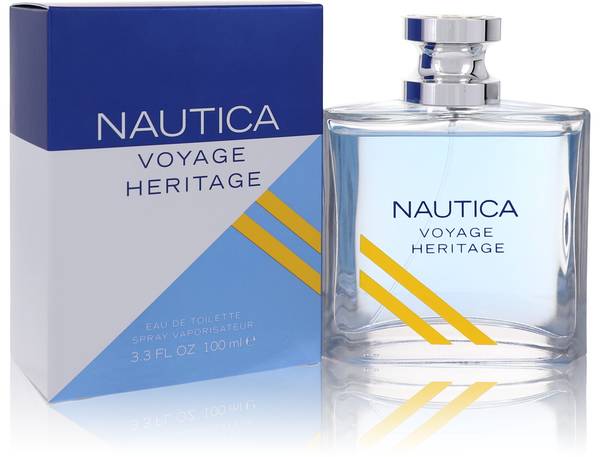 Voyage Heritage comes in the same bottle as the other Voyage colognes. The only difference is the 2 yellow stripes on the bottle. Overall, the bottle design is nice and easily fits in the palm of your hand.
It also comes with a silver top that is made out of plastic. There is a yellow stripe on it as well.
The atomizer is decent for what you are paying for.
Longevity
Nautica Voyage Heritage does not last long. It is not a strong powerhouse cologne by any means. Similar to the other flankers, you will be able to get around 3 hours in normal conditions. This is for the average user. Max longevity is around 4 to 5 hours. I understand that some guys will get longer, but most reviews do not show that. For me, I get the short longevity.
Sillage (Projection)
The projection for Voyage Heritage is weak. You will get about 30 minutes of decent sillage. Sometime you can get 45 minutes in the right conditions. Overall, this is going to be skin scent. The only other people who will be able to smell this on you will have to be hugging you.
When To Wear
Being a fresh aquatic, this EdT works best in the summer months. It is more of a daytime fragrance as well. It's scent is casual and versatile. If you are looking for something that is inexpensive to spray on before you go to a BBQ or an oiutdoor event, then this is a good choice.
Maybe you want a cologne for the gym. This is something you want for when you just want to smell clean and nice, but you do not want to waste an expensive fragrance.
It does have a cheap synthetic smell to it, but it does smell nice for what it costs. I certainly would not wear this to impress a girl on a date to a nice restaurant.
Price
Nautica Heritage costs around $20 give or take at most online stores. You can also go search rack stores like Burlington, and you may be able to find it there for a lower cost.
You can sometimes find a gift set that includes a 1.7 EdT and body spray for a good cost.
You can check the current cost at Amazon for Heritage Eau de Toilette.
Overall Impression
Overall, it is a nice budget fragrance. It does smell a little synthetic, but it still smells good. You know what you are getting with this cologne. If you need a fragrance like this in your collection, it is worth a blind buy.
Here is who I recommend this cologne to:
Any super fan who loves Nautica fragrances
Any guy looking for a budget shower gel scent
Any teenager looking for a clean and fresh scent
Someone starting their cologne collection
Anyone looking for a nostalgic fragrance from the 1990's
| | |
| --- | --- |
| Review | Nautica Voyage Heritage |
| Summary | Nautica Voyage Heritage is a clean smelling shower gel scent. It is more sweet and herbal than regular Voyage. |
| Author | Country Club For Men |
| Rating | 3.9 (out of 5) |
Nautica Voyage Heritage Vs Voyage
If you compare Voyage Heritage to Voyage, they are different. Voyage Heritage is more sweet and herbal. Nautica Voyage is more fruity and fresh.
Both of these fragrances have a fresh aquatic scent, they just get there different ways.
Heritage uses lavender which provides somewhat of a clean, soapy, barbershop scent. It still comes off as a fresh smelling cologne.
Nautica Voyage uses green notes and apple to provide scents of fruits.
They both are similar because they are fresh shower gel fragrances.