Yves Saint Laurent is a French fashion house that has been recognized as one of the top cologne and perfume houses in the world. They have been producing some of the finest designer colognes for over 50 years. Many people refer to the brand simply as YSL.
They are recognized as one of the top fashion designers in the world.
YSL offers hundreds of fragrances with a great selection of colognes for men. We will review some of our favorites.
Top Picks
Best Selling YSL Cologne: Yves Saint Laurent La Nuit de L'Homme
Mass Appealing Cologne: Yves Saint Laurent L'Homme
Strongest YSL Fragrance: Kouros
There are just a few standouts among our list that we reviewed. Hopefully, you can find one that matches your style. They have one of the largest flanker lines in the perfume industry, so they have a lot to choose from.
Top 11 List of Best Yves Saint Laurent Colognes
YSL has a lot of fragrances that date back to a long time ago. Some of them are difficult to find and others are discontinued. We tried to include ones that you could obtain easily, even if they are discontinued.
YSL has made some of our favorites, but you cannot purchase them anymore online or retail.
Rive Gauche for men is one of my favorite fragrances, but it is too difficult to find a bottle of it now. If you do not see it on this list, that is why.
1. Yves Saint Laurent La Nuit De L'homme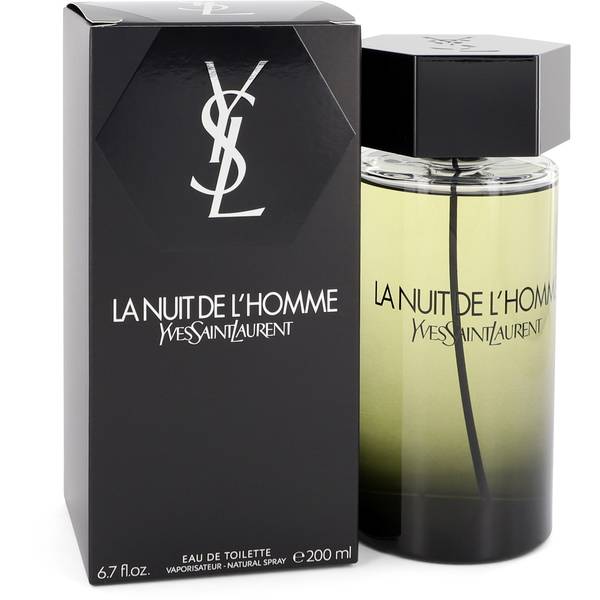 When people in the fragrance community think of YSL, the first thing that comes to mind is La Nuit De L'homme. This is the most popular cologne by this house.
This is a flanker from the L'Homme Collection. L'Homme is also included on our list.
It has been reformulated over the years, but it still smells incredible. You may need to spray it a little more than the original.
The main note is cardamom, so this is a woody and spicy fragrance. La Nuit De L'homme is a great fragrance for cooler weather or night time.
This cologne is easy to wear, mass appealing, and most everyone enjoys this scent. If you are new to fragrances, this is a great place to start. It wears close to the skin, and it is inoffensive.
This is an easy blind buy due to over ten years of almost everyone enjoying the smell of this cologne.
YSL La Nuit lasts 6-8 hours. 5 hours is a good average for how long it lasts on your skin
2. Yves Saint Laurent L'Homme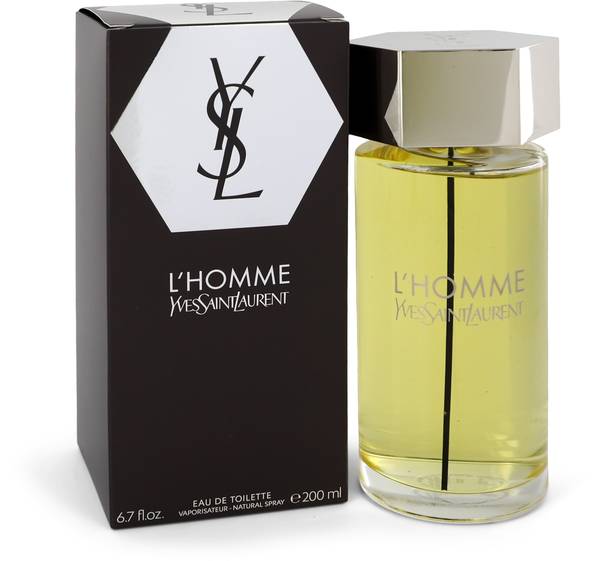 The Designer fragrance that started the flanker craze for YSL: L'Homme. There are currently over 20 flankers in this collection.
L'Homme starts with a blast a bergamot which gives it a fresh and clean opening. Ginger and lemon notes compliment the opening notes.
Over time, it develops into a pleasant spicy and woody scent. If you want to smell good, and you don't want to project in a room, then this is a great choice.
It will draw a lot of compliments, but because it wears close to the skin, people will have to be close to you. Older versions will be stronger and have better projection. Either way, if you wear this, you will get a lot of women remark on how good you smell.
This is a great smelling inoffensive, easy to wear cologne that you can wear in almost any setting. Another bling buy due to the overwhelming amount of positive reviews this fragrance has received. We agree that L'Homme should be in everyone's collection.
L'Homme is a timeless classic cologne.
3. Yves Saint Laurent Kouros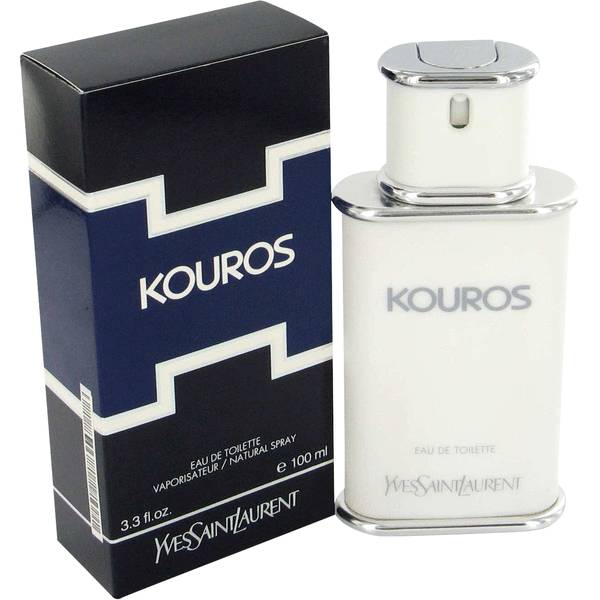 Kouros is a cologne that we recommend if you love Fougères. This was launched in the early 80's, and it has a strong animalic vibe to it.
When you initially spray this on your skin, you will smell strong notes of civet. Because this is a strong fragrance, we recommend only a couple of sprays. Over time the musk notes will fade, then the greens and spices will show up.
If you can imagine a masculine, sexy powerhouse of the 1980's, then you know what Kouros smells like. You must like musk, civet, and funk to enjoy this one.
The notes of lavender and honey blend perfectly with the civet, and over time, this cologne smells amazing!
Grab a bottle of the beast mode powerhouse cologne. This is a love it or hate it scent. Did I mention that it is manly masculine?
4. Yves Saint Laurent Y Cologne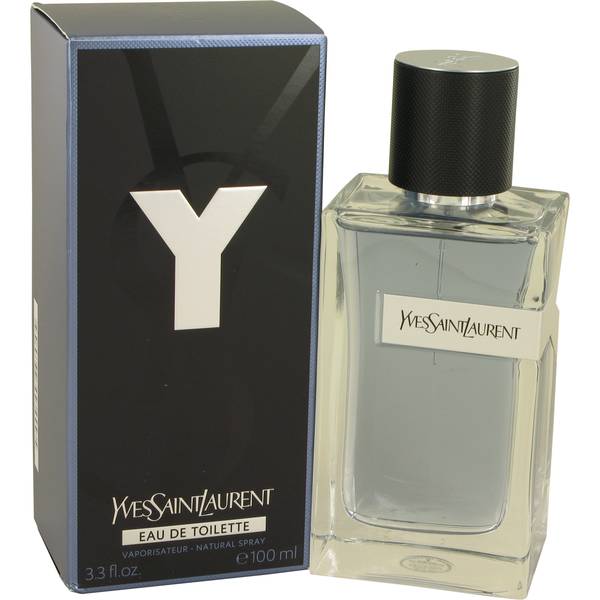 Y cologne by YSL is a fragrance to wear when you cannot decide what to spray on. Overall, it is a nice scent, most people enjoy it and women like to smell it on guys.
Having said that, it does not have a "wow" factor with it, but most people will say you smell good with it on. Very rarely will people dislike how it smells.
This fragrance has a sharp, fruity opening with the freshness of bergamot. Over time, it dries down to a musky, green, and woody base. This smells great, and we highly recommend it. For fragrance lovers with a large collection, it may smell too generic though.
If you are looking for a fresh, spicy, citrus cologne that is great for casual wear, then look no further than Y by Yves Saint Laurent.
This is a perfect fragrance for beginners, and it is great for when you want to smell nice. It works well for first dates, the office, school, or pretty much anywhere. The odds that someone will be offended by Y cologne is pretty slim.
5. Yves Saint Laurent L'homme Ultime Cologne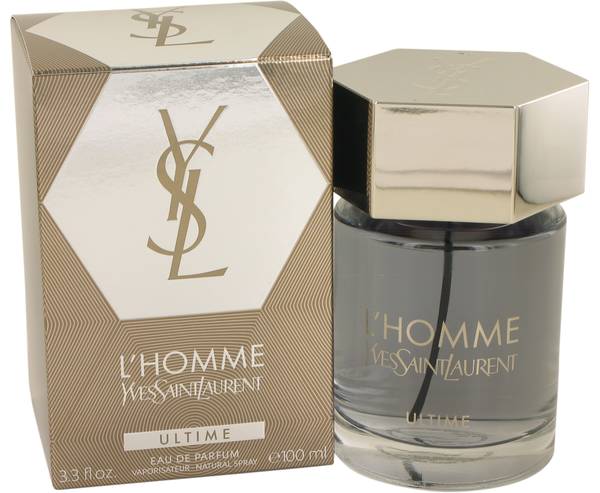 Ultime cologne by YSL has opening notes of ginger, grapefruit, bergamot and spices. So, it smells a little like a gin and tonic. A beautiful, fizzy and fresh first spray.
The opening is fantastic, and it is one of my favorites. It smells incredible. I am a big fan of cardamom though.
It does contain rose, but Ultime is not a rose dominant fragrance. It seems to balance with the other notes. I am not into rose scented fragrances, so I was a little apprehensive at first. However, this did not disappoint.
This is a discontinued cologne, so you should purchase a bottle before it is all gone. You can still get some from Fragrance X who we love as an online retailer for perfumes and colognes.
---
6. Yves Saint Laurent Y Live Intense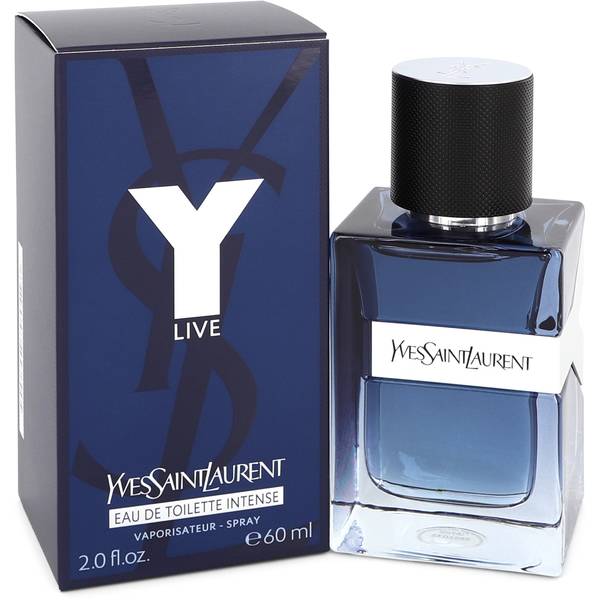 Y Live Intense is part of the Fougère family, but it seems to be a new take on it.
The opening notes are pear, grapefruit, and orange blossom. The base is cocao, cedar, and juniper.
Some colognes have that bubble gum sweetness to it, and Y Live is one of those. It is nice and sweet.
After some time, it dries down to a clean shower gel scent. While it has cocoa in the base, it is not noticeable. It does not smell like a vanilla chocolate gourmand.
This blue fragrance is versatile, and you can wear it almost everywhere. Due to the sweetness and bubble gum note, it may be more suited for a younger crowd.
7. Yves Saint Laurent Eau Electrique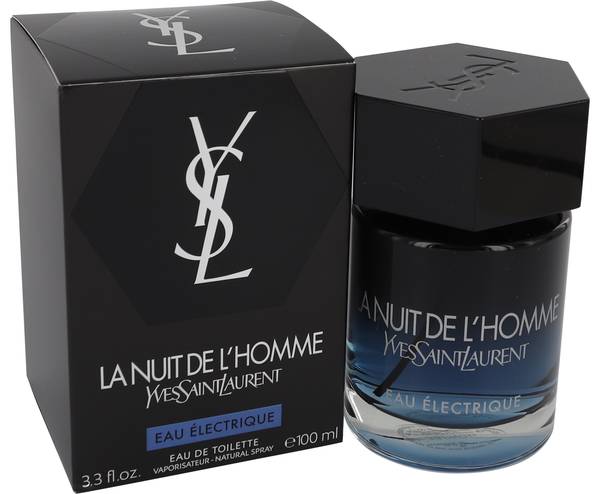 Eau Electrique is a flanker for the La Nuit De L'Homme sub collection.
This is a fougère fragrance that many men compare to Versace Eros. I get that because of the Tonka and apple notes, but it is missing the mint that I get from Eros.
Another comparison is Armani Code Profumo. If you like those 2 colognes, then you should give Equ Electrique a try.
When you spray this fragrance it opens with apple, citrus, geranium and lavender. It starts out fresh and then changes to a sweet vanilla.
Overall, this is a fantastic smelling cologne. It is versatile, a compliment getter, and a great flanker.
8. Yves Saint Laurent Kouros Body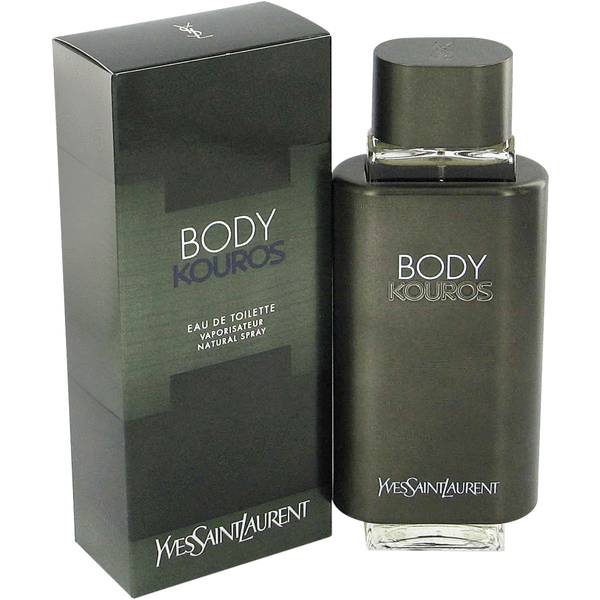 Kouros is a love hate fragrance, so the good news is that Body smells nothing like the original if you dislike it.
Kouros Body is benzoin heavy, so if you love that note, then you will like this cologne.
It does contain eucalyptus, so there will be a medicinal quality to it. That note is not dominant, but it does linger in the background.
This smells clean, powdery, and soapy. If you are looking for a unique fragrance, then you should grab a bottle of this.
This is soft, sexy, and powdery sweet, yet it is still very masculine.
9. Yves Saint Laurent La Nuit De L'homme Le Parfum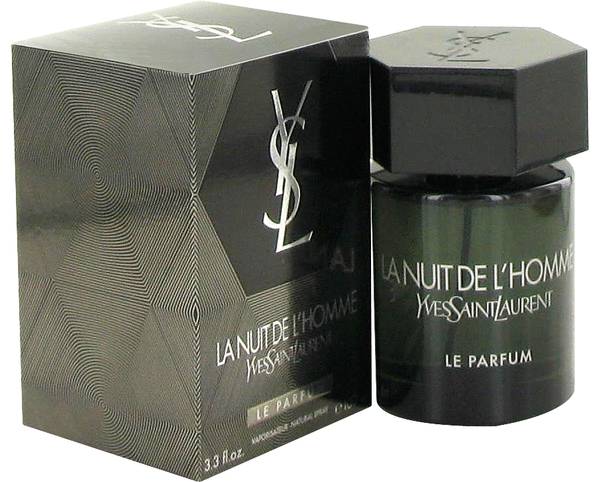 Another flanker on the L'Homme line. This fragrance is nice and it smells great. It is very similar to a lot of other colognes on the market, so if you like unique frags, then there are others on this list.
This fragrance is missing the cardamom that is present in the original, so this is a little different.
L'Homme Parfum is a great choice for men who do not have a lot of YSL in their collection and want a safe option. You will smell nice with this on, but you will not be the guy with the signature scent.
It opens with bergamot, fruits, pepper and anise. The pepper is a little strong to me, but fades.
Next comes the lavender, labdanum and fruits. It dries down to a sweet, spicy, fruity fragrance. It smells great, is classy, casual, and elegant.
It can be a bit cloying if you overspray, but you have to go heavy to get to that point.
L'Homme Parfum is a great choice for beginners and guys who want to add to their YSL collection. If you like blue colognes like Dylan Blue, etc., then you should also like this.
The projection is not far, so you should be good wearing it in most places as it will likely not offend anyone.
10. Yves Saint Laurent L'homme Cologne Bleue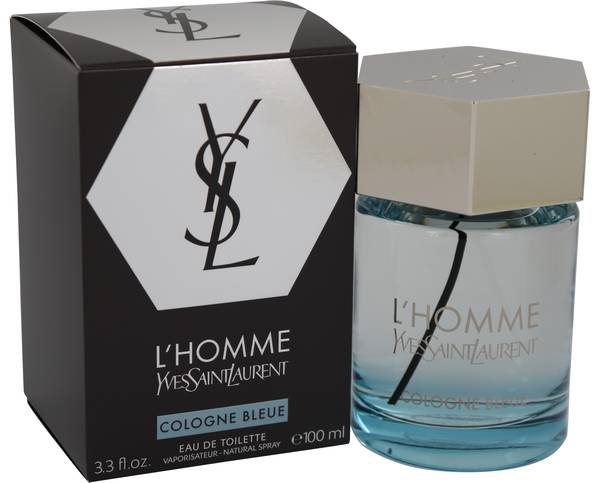 L'Homme Cologne Bleu is another flanker that is an aromatic aquatic fragrance.
It opens up with a minty note along with some ocean notes. The opening notes are really good, and it smells fresh, aquatic, and clean.
It also has the infamous cardamom note along with some black pepper.
The dry down is a woody and generic smelling.
It wears close to the skin, and it is great for an office environment because nobody will be offended by a strong scent.
You will not command a room when wearing this, but that can be a benefit if you want a subtle fragrance that does not project. This will work for intimate settings where you want a cologne that wears close to your skin.
11. Yves Saint Laurent L'homme L'intense Cologne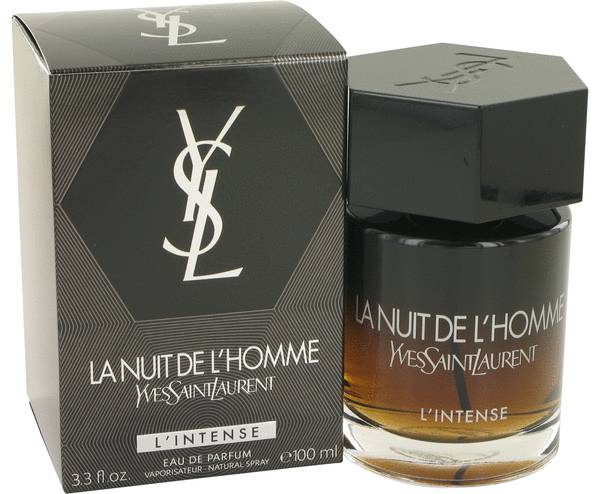 The key notes for YSL L'Intense are Violet and Iris. Overall, this is a sweet and powdery fragrance with some floral notes.
Other notes are tonka, patchouli, vanilla, and sage. This is a smooth cologne that would work great during cooler months or at night.
This flanker is one that could lean toward unisex to my nose. If you can remove the cardamom from La Nuit De L'homme and replace it with a tonka bean explosion, then that is what this smells like to me.
Frequently Asked Questions
Is Yves Saint Laurent Good Cologne?
Yes, YSL is good cologne. This brand offers many great smelling colognes and perfumes. Some of their top and best selling are La Nuit De L'Homme and L'Homme.
How To Tell If YSL Cologne Is Real?
If you look at the bottom of the box of YSL cologne, the real one has the UPC numbers right side up. The fake cologne has the UPC bar code upside down. Also, there will be a batch code printed on the bottom of the cologne box. The fake one does not have a batch code printed on the box.
How Long Do YSL Colognes Last?
YSL fragrances come in different strengths from EdT to EdP, etc. Each fragrance will have it's own lasting power. Your skin will also determine how long they will last. Weather and environment can also affect how long YSL will last on your skin.
How Do You Pronounce Yves Saint Laurent?
YSL is a French company, so the correct pronunciation is eve-san-lou-ron.
Who Created YSL Colognes?
La Nuit De L'Homme was created by Anne Flipo, Pierre Wargnye and Dominique Ropion. L'Homme was created by Anne Flipo, Pierre Wargnye, Dominique Ropion and Juliette Karagueuzoglou.