Yves Saint Laurent Y Eau de Parfum was released in 2018, and it is a very successful fragrance for them. This version became more popular than the EdT concentration. It was marketed as a seductive fragrance for men.
This is a masterpiece by Perfumer Dominique Ropion.
We will provide you with an overview of YSL Y EdP and give you a full review of our thoughts.
As an Amazon affiliate, we may make a small commission if you click any of our links and make a purchase. This is at no extra cost to you, and it helps to keep the site running.
What Does YSL Y Eau de Parfum Smell Like?
YSL Y EdP smells like a fresh green apple mixed with Juniper. It dries down to a nice spicy scent with woody notes mixed with vanilla and ambroxan.
Top Notes:
Heart Notes:
Base Notes:
Amberwood
Tonka
Vetiver
Cedar
Olibanum
The opening has fresh fruity scent of apples and bergamot. It is quickly followed by more freshness from Juniper. The opening is less bright than the EdT version, but it shines during the heart and dry down. A full review of YSL Y EdT is here, if you are interested. This is very pleasing and easy to wear. It is designed to appeal to most people.
In the heart and the base is where the Amberwood comes out. This will give it that scent of ambroxan mixed with woody notes. The tonka mellows it out a lot, but it is still not as sweet as the opening. The dry down is why it is one of the best YSL colognes.
YSL Y EdP is designed to be mass pleasing and a compliment getter. It does a great job of that. Both fragrance enthusiasts and novice cologne wearers will both enjoy this. If you are a niche fragrance enthusiast, this will probably not be something for you.
This is a nice fresh fragrance that is casual, but it can be worn in almost any setting. It is very versatile and mass pleasing.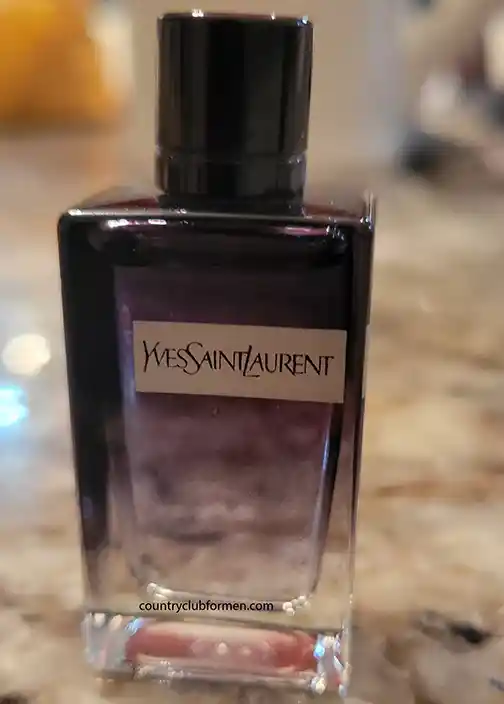 Presentation
The fragrance comes in a black box with blue "YSL" logo on it. This is a change from the original which came in a black and blue box with "Y" in white. It comes in a thick glass bottle with a plastic "Y" that wraps around it with the name of the House on it.
It has a black cap that clicks on. It has a chrome top with the YSL logo on it. The color of the fragrance is light blue, and the atomizer does a great job of spraying.
How Long Does YSL Y Eau de Parfum Last?
YSL Y EdP lasts for around 8+ hours. It has moderate longevity that would be expected. The performance of the EdP is much better than the YSL Y EdT version that came out a year prior. If longevity is a sticking point for you, then you will like this version.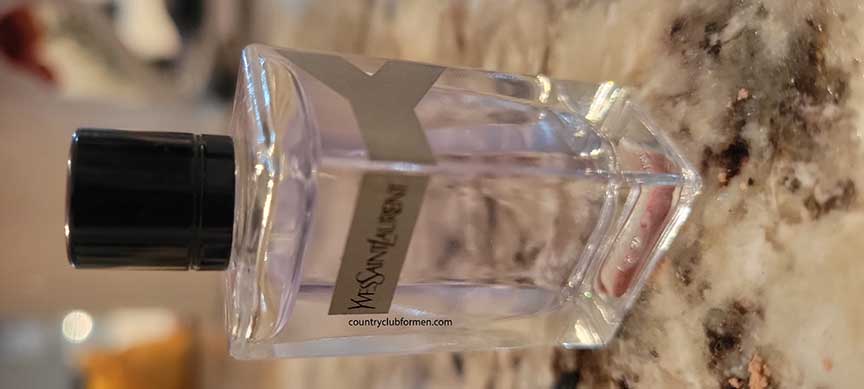 Projection
This projects for around 2 hours and is above average. After that, it becomes a skin scent, or someone has to be very close to be able to smell it. It leaves a nice and pleasant scent trail that is not overwhelming. This allows it to be worn in almost any setting, and it should get you some compliments.
When To Wear YSL Y Eau de Parfum
YSL Y EdP can be worn in almost any setting due to its versatility. It is inoffensive, so you can wear it for casual outings, to the office, or on a date. Most people will enjoy smelling it on you. The soft and sweet citrus, juniper, and ambroxan make this an extremely versatile Parfum.
This can also be worn year round. It has a lot of complimenting notes that work almost anywhere.
What We Like
Very versatile fragrance that can worn almost anytime
Does a great job of getting you compliments
This fragrance is mass pleasing and inoffensive
What We Don't
Costs more than the EdT version which is similar
Not unique smelling for guys with a large fragrance collection
Yves Saint Laurent Y EdP Price Comparison
The price of this fragrance has dropped over the years, and it can now be found online at many discount retailers. It can also still be found at most department stores if you want to try and test it out first.
Here is a comparison table of YSL Y EdP prices:
Should You Buy YSL Y Eau de Parfum?
If you like fresh and mass pleasing fragrances, then you should get a bottle of YSL Y cologne. This gives you something that you can wear in almost any setting because it is extremely versatile. In addition to that, women like the way it smells. You will get complimented while wearing this.
Other Options
If you want something similar to this Y EdP, then your best option would be Y Eau de Toilette. It is going to be the closest thing. It will have a brighter opening, but the dry down is not quite as good. Overall, they are very close, but there are definite differences.
Y Le Parfum is also another solid choice for a fragrance that is close to Y EdP. This smells more refined and smooth. It also seems to be a bit darker and richer. The Parfum is a very sensual fragrance.
Overall Rating
| | |
| --- | --- |
| Review | Yves Saint Laurent Y EdP |
| Summary | YSL Y EdP is a fresh fragrance for men that is mass appealing. It has citrus notes with a mix of ambroxan. |
| Author | Ryan Gardner |
| Rating | 4.2 (out of 5) |