Another flanker in the Nautica line, N83 cologne falls in line with all of the other aquatic fragrances. There are several of these, and we are looking at Voyage N83. This Nautica for men designer cologne is easy to obtain, and is still in production.
It is similar to Voyage, and it carries the same aquatic feel to it with the musk dry down.
Overview
Release Date: 2013
Type: Aromatic Aquatic
Gender: Masculine
What Does Voyage N83 Smell Like?
N83 opens with notes of citrus, spice and petitgrain, so it is more fresh, and spicy than the original. It also has a hint of mint along with scents of the ocean. It misses on the floral notes like Blue has, and it is more of a spicy lavender. It dries down to woods and musk. The dry down is a strong synthetic musk smell. The musk is typical with the Nautica flankers.
Overall, it is a minty fresh aquatic fragrance that smells nice. Most men and women will enjoy smelling this. It is mass-appealing, and there is not much to dislike about it.
It is similar to Nautica Voyage Sport because it is a fresh fragrance. However, Sport gets it from citrus like bergamot.
Notes
Top Notes: Sea notes, Spice, Petitgrain
Middle Notes: Nutmeg, Lavender, Cardamom
Base Notes: Musk, Cedar, Sandalwood
Presentation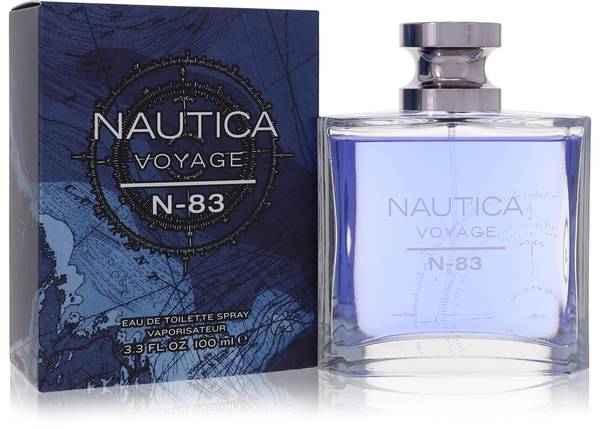 Voyage N83 comes in a 3.3 oz / 100 ml glass bottle with a silver capstan cap. There is also a compass icon on the bottle. The fragrance is a light purple color.
The bottle comes in a nice sturdy dark blue box with a compass design overlayed onto a map.
Longevity
The longevity for Voyage N83 is moderate to weak. I can get a few hours off of it, but many others say they cannot even get that long. Of course, this will depend on your body chemistry, location, weather, etc. I wouldn't expect to get over 6 hours for most people.
In my experience, spraying Nautica cologne on your clothes seems to last longer than on your skin.
For a cologne under $20 poor longevity is to be expected.
Sillage
The sillage is light to moderate. I can get around 30 minutes where people within a few feet can smell it. After that, it becomes an intimate skin scent. Most reviews point out similar levels of sillage and longevity as well.
Price
You can get this cologne online for under $20 usually. It is also available at discount brick and mortar stores. I also believe that Wal Mart carries it.
The best price that I could find is at Fragrance X. You can check the price of Voyage N83 here.
Nautica N83 vs. Voyage
If you compare Voyage N83 to the original Nautica Voyage you can smell some similarities.
Nautica Voyage is the more popular scent. That doesn't mean that N83 is bad, it is not.
Both of these fragrances are clean, fresh, and aquatic. They are both mass appealing, and easy to wear. Most guys like the way they smell, but they are not unique.
Both of these fragrances have similar cost of under $20 for a 100 ml bottle. When it comes to wearing them, they are interchangeable. I would not suggest using one over the other for any specific occasion.
When it comes to longevity, Nautica Voyage outperforms N83. This will last longer and it has better projection over Voyage N83.
Nautica N83 smells more minty, salty, and aquatic. Nautica Voyage smells more green and citrusy.
Overall, both of these colognes for men smell great. However, I prefer Nautica Voyage over Voyage N83 if I had to choose one. The great news is that are both very affordable, so it is easy to get them both.