Nautica Blue is like the overlooked step child in the Nautica cologne collection. Voyage seems to get all the rave reviews while Blue is overlooked.
They are both created by the same perfumer, and Blue was released a year prior to Voyage. This fragrance falls in line with other fruity aquatic colognes.
This review of Nautica Blue will provide you with a solid overview and a recommendation to purchase if you want a low cost clean and aquatic fragrance.
You may also like our take on Nautica Voyage Eau de Toilette spray. Both of these fragrances are similar.
As an Amazon affiliate, I may earn commission from any qualifying purchase that you make from clicking a link to Amazon. This is no extra cost to you, and it helps to keep the site running.
Overview
Type: Aromatic Aquatic
Release: 2005
Concentration: Eau de Toilette
Gender: Masculine
Perfumer: Maurice Roucel
Nautica Blue Scent
Nautica Blue cologne smells like a fresh aquatic fragrance. It also has fruity notes like pineapple and peach. Along with that is has a watery scent to it.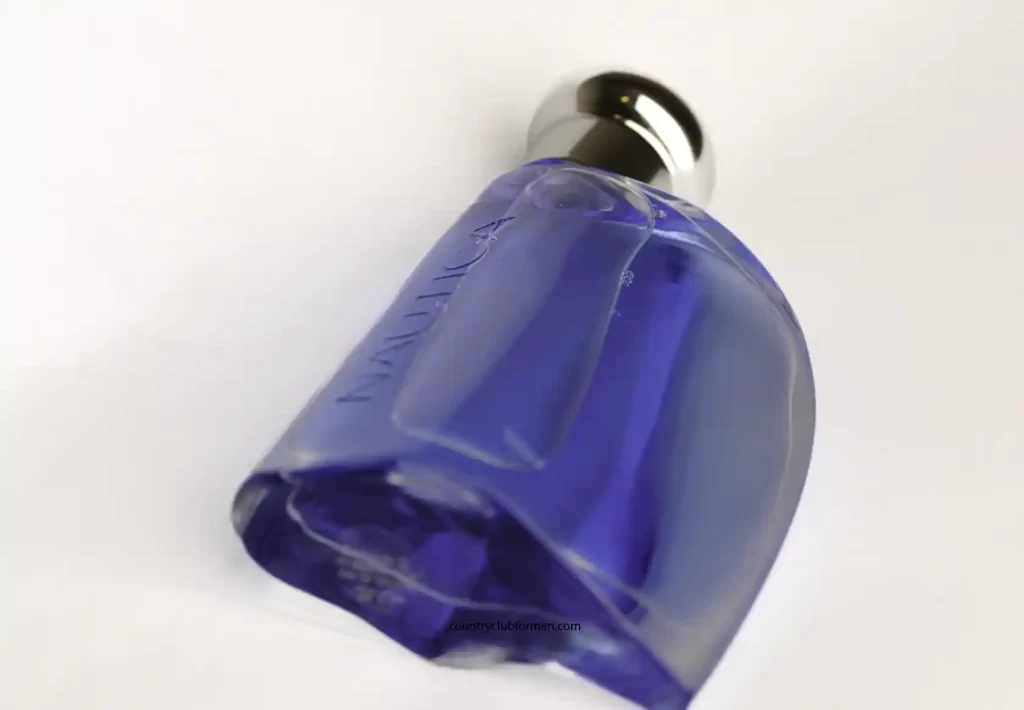 Overall, it is a nice smelling budget cologne. If you are a fan of Nautica Voyage, and you happen to pass by this for a good price, I would recommend purchasing it.
If you are into niche and expensive fragrances, you probably will be fine without it, as you will likely not wear it much.
This is a linear scent with some synthetic undertones to it. Granted, you would expect that with a budget cologne like this.
While reading the notes, pineapple may stand out because of its fame in Creed Aventus, but do not expect anything like that here.
Top Notes: Peach, Pineapple, Bergamot
Water Lily, Jasmine
Musk, Cedar, Sandalwood
Nautica Blue opens with notes of citrus and woods with a touch of musk. It is clean and sporty smelling. The water lily and jasmine provide that aquatic and watery vibe that you would expect with a blue fragrance. The dry down is a mixture with soft citrus notes coming and going. It has a linear and synthetic feel to it.
Presentation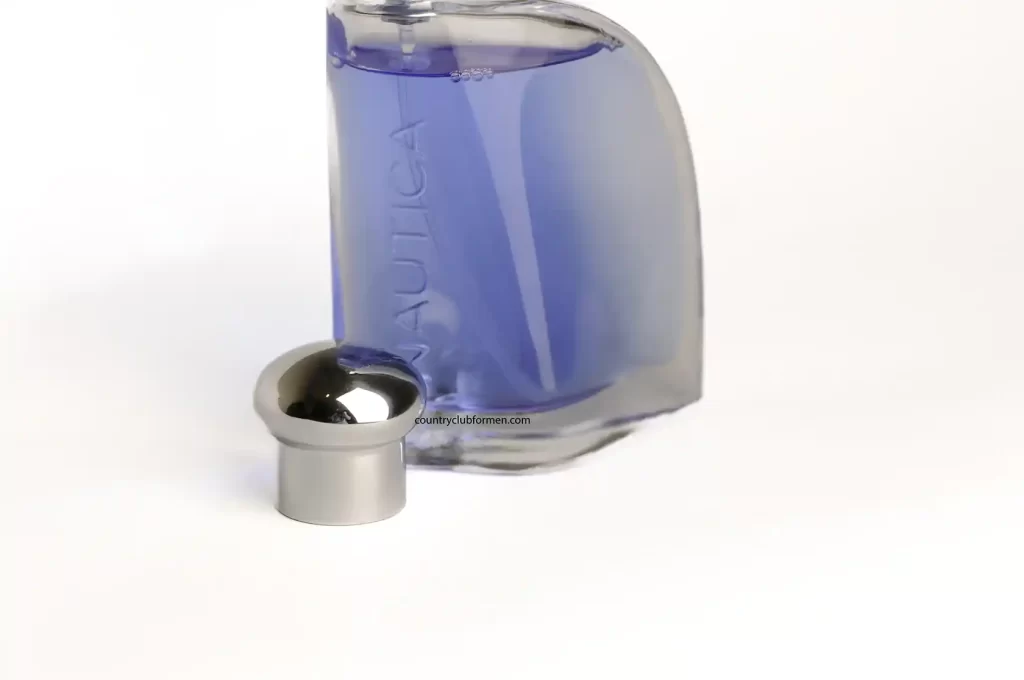 Nautica Blue comes in a clear glass bottle with a unique shape. It is shaped like a sail. Inside is a blue fragrance that is similar to other Nautica colognes.
The bottle is an awkward shape to hold and it can be annoying to some when spraying it. From an appearance stand point, it looks great though. It looks like a blue sail.
If you line up the atomizer with the raised "Nautica" lettering on the bottle, it will fit correctly in your hand. This allows you to avoid the awkward shape in your hand.
On the bottom of the bottle is a clear sticker with the batch code listed on it.
It has a silver cap and underneath is a blue atomizer.
The atomizer is decent and may be a bit better than Voyage.
It comes in a blue box with the bar code and batch number on the bottom.
Longevity
Nautica Blue has low to moderate longevity and lasts about 2 to 3 hours.
The sillage is low. This cologne wears close to your skin, and there is not a lot of projection with it. It has decent projection for an 1 to 2 hours. After that, you will need to be fairly close to your skin to smell it.
When To Wear It
If you want a cologne for men that wears close to the skin, then this is a good choice. Looking for a situation when you don't want to waste your expensive colognes? Then, grab a bottle of Nautica Blue. This is perfect for a gym fragrance or when you just want to smell clean and fresh. There are a ton of situations where this would be a good choice.
Also a fragrance that you can wear to work. This will not bother anyone at work as they will likely have to get really close to you to smell it.
This is something that you can put in your gym bag or office desk and use when needed. Due to its low cost, it's not going to matter if you misplace it or lose it.
If you are on a strict budget, and you want to get a Nautica cologne, then Voyage may be a better choice.
What We Like
Decent smelling low cost fragrance
Nice to take to gym
Low cost
What We Don't Like
Generic smelling and synthetic scent
Does not last long at all
Price
Most online retailers will sell this for just under $20. You may be able to find it at a discount retailer for around $10 though.
It is a great value for what it is, especially if you can get it for around $10.
You can check the current price of Nautica Blue cologne at Amazon here.
Summary
Overall, this is a nice cologne for men, and it is affordable. If you are a fan of Nautica colognes you should give this a try. This gets tossed around a lot with their most popular scent, Voyage. For a full look at Nautica Voyage vs Nautica Blue you can read out comparison.
| | |
| --- | --- |
| Review | Nautica Blue Cologne |
| Summary | Nautica Blue is a nice smelling budget cologne that will work when you want to smell fresh and clean but are not worried about using an expensive cologne. |
| Author | Ryan Gardner |
| Rating | 3.6 (out of 5) |