Dylan Blue by Versace is an aquatic cologne for men. It is a great choice for beginners and experienced collectors. It is a designer fragrance that is mass appealing, although it may be a bit too generic for guys looking for something unique.
I love it, and it is an easy blind reach for me.
If you are also interested in our list of top smelling Versace colognes, you can read our list.
Overview
Concentration: Eau de Toilette
Gender: For Men
Sizes: 50ml, 100ml
Versace Dylan Blue is a men's fragrance launched in 2016.
The fragrance was created by perfumer Alberto Morillas.
It is inspired by the Mediterranean and the mythology of Versace's ancient Greek roots.
The scent is described as woody, spicy, and fresh.
The fragrance has won several awards, including the Fragrance Foundation Awards for Best New Men's Fragrance in 2018 and the Men's Popular Appeal award at the 2017 Fragrance Foundation Awards.
Notes
Top notes:
Calabrian bergamot
Grapefruit
Fig leaf
Aquatic notes
Heart notes:
Violet leaf
Papyrus
Patchouli
Black pepper
Base notes:
Musk
Incense
Tonka bean
Saffron
What Does Versace Dylan Blue Smell Like?
Versace Dylan Blue has become a staple in my cologne collection. It's a versatile scent that I can wear year-round, and it always receives compliments. The fragrance is fresh and crisp, yet also masculine and powerful.
The opening notes of Calabrian bergamot, grapefruit, and fig leaf give it a zesty and vibrant opening that is perfect for a summer's day. As the fragrance develops, the heart notes of violet leaf, papyrus wood, and patchouli give it a subtle depth and sophistication that works well for formal occasions.
What I love most about this fragrance, though, are the base notes of musk, incense, and tonka bean. They give the scent an alluring, seductive quality that lasts throughout the day or night. I find myself reaching for this fragrance time and time again, whether I'm going to the office, a dinner party, or a night out with friends.
Overall, Versace Dylan Blue is a must-try fragrance for anyone who appreciates a well-crafted, high-quality scent. It's a signature fragrance that can easily become a go-to scent for any occasion.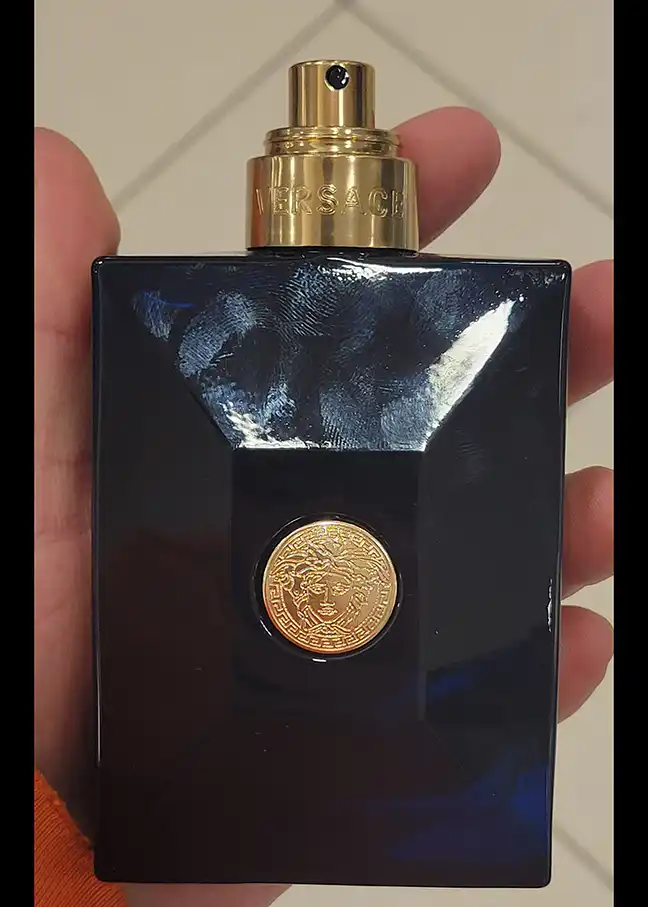 For more information about Versace colognes, you can view their site.
Packaging And Presentation
Versace Dylan Blue's packaging and presentation is truly luxurious. The fragrance is housed in a cobalt blue glass bottle with a black cap, featuring the iconic Versace logo in gold lettering.
The box is also nice. It is covered in a deep blue velvet-like material and adorned with gold embossed Medusa head on the front. The intricate designs and patterns on the sides and back of the box add to the overall sense of opulence and luxury. Inside the box, the fragrance is kept secure in a black foam insert.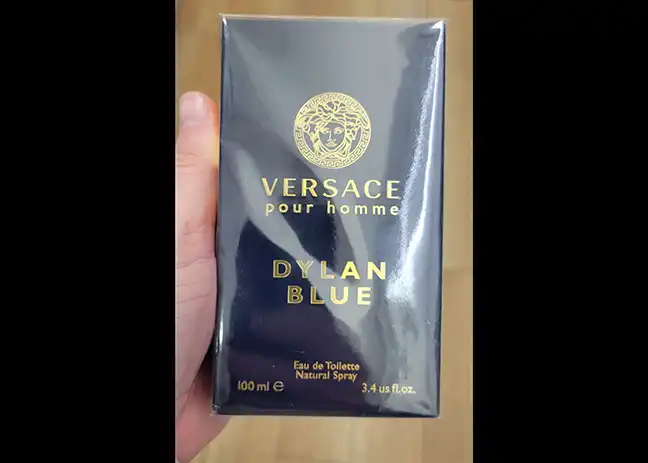 The packaging and presentation of Versace Dylan Blue are elegant and sophisticated.
Longevity And Projection Of Dylan Blue
Versace Dylan Blue is a fragrance that truly delivers in terms of longevity and projection. It lasts for around 8 hours and it has great projection for the first 3-4 hours.
When I wear this fragrance, I notice that people around me tend to lean in a bit closer, as if they can't resist the alluring scent. It's a fragrance that demands attention without being too aggressive.
The opening notes are crisp and fresh, and they stick around for a good amount of time before the heart notes begin to develop. The base notes are what really give this fragrance its staying power, though. The musk, incense, and tonka bean linger on my skin for hours, creating a warm and inviting aura around me.
Overall, I would say that Versace Dylan Blue has above-average longevity and projection. It's a fragrance that you can wear confidently, knowing that it will stick around for the long haul.
When To Wear Versace Dylan Blue
Versace Dylan Blue is a versatile fragrance that can be worn on various occasions. Its fresh, citrusy top notes make it an excellent choice for casual daytime events such as brunch or a picnic in the park.
The warm, musky base notes of Dylan Blue make it perfect for formal evening events such as a black-tie dinner or a night out at the opera. It's also a great choice for romantic dates, with its warm and sensual base notes that are perfect for a candlelit dinner or a night out dancing.
In addition, the sophisticated and complex layers of Dylan Blue make it an excellent choice for professional settings such as a job interview or an important business meeting.
My Review
Versace Dylan Blue is one of those fragrances that shifts between elegant and a mass-appealing blue scent. There are times when it seems to blend in with all the other blue fragrances on the market, and it seems uninspiring. Other days when I wear a suit, I want to spray this on. Overall, I really like Dylan Blue a lot. It is easy to wear, and a blind reach in almost any setting. If I am in a rush, I grab a bottle of this and spray away.
If you are new or have a small collection of fragrances, then this should be on your list to try out.
This is not a signature scent for me, but I know a lot of guys who love this stuff.
Now, on to my impression on the fragrance:
When I first spray it on, it is fresh and vibrant. As the scent settled on my skin, I began to detect the deeper, more complex layers of the fragrance. The top notes of bergamot, grapefruit, and fig leaf were complemented by a heart of violet leaf, papyrus, and patchouli. These earthy, green notes gave the fragrance a sense of depth and sophistication, while the base notes of musk, incense, and tonka bean added a warm and sensual touch.
One thing that struck me about Dylan Blue was how versatile it was. It could easily be worn during the day or at night, and could be dressed up or down depending on the occasion. The fresh, citrusy top notes made it perfect for a summer day, while the warm, musky base notes made it a great choice for a romantic evening out.
The longevity of the fragrance was also impressive. After applying it in the morning, I could still detect a faint whiff of the scent on my skin late into the evening.
Overall, I would highly recommend Versace Dylan Blue to anyone looking for a fresh and sophisticated fragrance that can be worn in a variety of settings. Whether you're a long-time Versace fan or a newcomer to the brand, this fragrance is definitely worth trying out. If your Versace collection is limited to Versace Eros because you like to go clubbing, then a great scent to pair that with for all other occassions would be this one.
Pros And Cons
Pros
Extremely versatile
Great for all ages
Easy to wear
Cons
Synthetic smelling
Not unique
Ambroxan note has metallic scent
Frequently Asked Questions
How Many Sprays Of Versace Dylan Blue?
For casual wear, 3-4 sprays will last you through the day. It will also be strong enough to get you some compliments.
What Is Best Time Of The Year To Wear Dylan Blue?
Dylan Blue can be worn in Fall, Winter, Spring or Summer. It is an extremely versatile fragrance for men.
Which Fragrances Are Similar To Versace Dylan Blue?
Dior Sauvage and Bleu de Chanel are similar.