Penhaligon's Sartorial is an aromatic fougère cologne. It is a barbershop fragrance for men.
Penhaligon's is a London based company and it represents the classy British gentleman.
Sartorial cologne was inspired by Norton & Son's Bespoke tailoring company. It is designed to invoke the sense of being on Saville Row at this tailor. Many of the notes represent a tailor's workshop. I can say, that they did a great job of that.
This smells so good that it made our list of the best fougere fragrances for men.
As an Amazon affiliate, if you click a link and make a qualified purchase, we may make a small commission. This is no extra cost to you, and it helps to keep the site running.
Details
| | |
| --- | --- |
| Fragrance | Sartorial |
| Brand | Penhaligon's |
| Fragrance Family | Aromatic Fougere |
| Gender | Masculine |
| Perfumer | Bertrand Duchaufour |
| Release Year | 2010 |
| Concentration | Eau de Toilette |
| Sizes | 1.6 oz. (50 ml), 3.3 oz. (100 ml), 6.7 oz. (200 ml) |
What Does Penhaligon's Sartorial Smell Like
Penhaligon's Sartorial smells like a classic fougere with a modern twist. It has classic elements to it along with notes of honey, beeswax, steam, and chalk. Of course there is a strong herbal scent of Lavender along with spices like pepper and cardamom.
The overall smell is masculine.
The opening notes smell like a steamed shirt likely due to the Linden Blossom. It immediately goes to a spicy and peppery scent. It then changes to a scents of honey, beeswax, and lavender. There is a soft note of powder, but it hides in the background.
This fragrance is truly amazing. At no point is there any sharpness or notes that stick out of place. It turns into a lavender, vanilla, and oakmoss scent on the dry down.
If you can imagine a classy and refined version of Brut cologne, then you have a good idea.
Penhaligon's Sartorial Notes
Top Notes: Metallic Notes, Aldehydes, Cardamom, Black Pepper, Water Notes, Violet, Neroli, Ginger
Middle Notes: Lavender, Beeswax, Leather, Lime, Cyclamen, Linden Blossom
Base Notes: Oakmoss, Honey, Musk, Vanilla, Patchouli, Cedar, Myrrh, Amber, Tonka
Presentation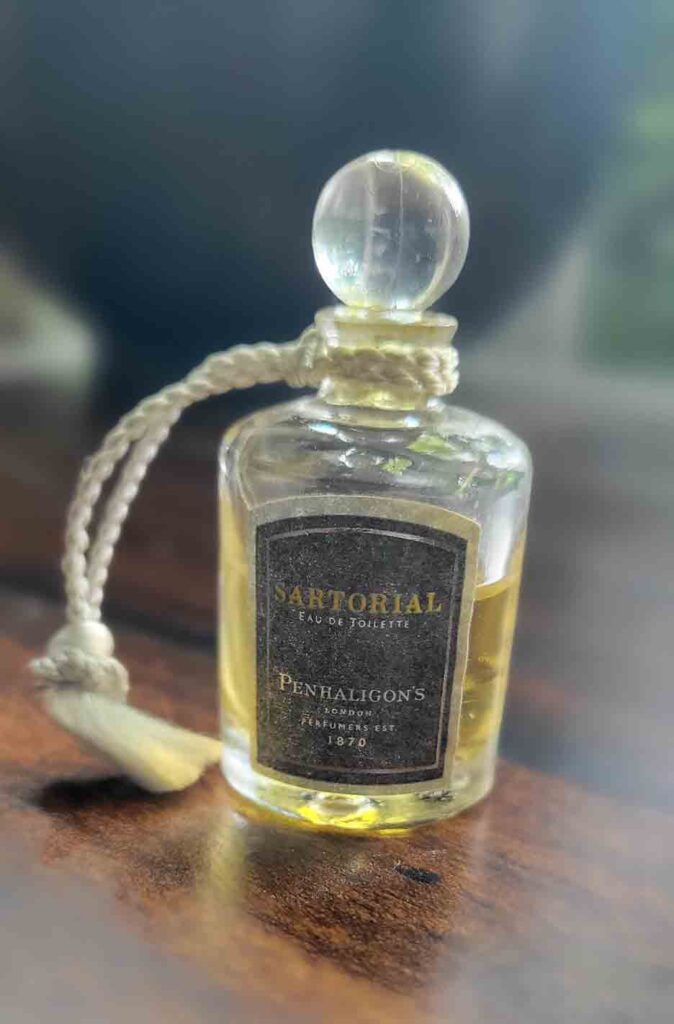 Sartorial cologne comes in a dark box with information about the company inscribed on it. The brand wants to let you know that they are old school and have been around since 1870. It also has a needle and thread image on it. This goes along with the theme of the fragrance which is a tailor's shop.
Its a classy looking box.
The fragrance comes in the classic Penhaligon's bottle with the bowtie on the cap. The fragrance is a yellow/gold color.
The atomizer is very good. You can get a really good spray out of it.
Longevity of Penhaligon's Sartorial
Sartorial lasts about 6 to 8 hours with a few sprays. It has moderate to long lasting staying power.
Projection
Sartorial cologne has good projection for about 2 to 3 hours. Around the 6 hour mark, it starts to mellow out. Then it becomes a nice skin scent. Overall, the projection for Sartorial is moderate. Some will get better projection and some will get worse.
When To Wear Penhaligon's Sartorial
Sartorial cologne is great to wear for any formal event. The scent is all about being masculine and mature. You could also wear this work as long as you can pull it off.
You could also wear it for some casual events. It seems to match up more for the Spring and Fall seasons. I do not particularly like to wear this in the summer or in the middle of winter. If you do not have harsh hot weather or really cold weather, then it would work then too.
Price
This cologne costs around $150. It is not listed at fragrance discounters usually. The best place to get it is directly from Penhaligon's.
You can purchase Sartorial cologne from Penhaligon's website.
What We Like
Unique Smelling Fougère
Complex Notes
What We Don't Like
Does Not Last Long Enough
Not Best Option For Younger Guys
A Bit Pricey For A Weak Fragrance
Who Should Buy It
If you are a guy who likes classy barbershop colognes, then you should put Sartorial cologne on your short list. This is going to align with your more formal wear. If you find yourself needing something when you are in a suit and tie, then this is a great purchase.
This fragrance is also suited for a more mature guy. It is not suited for the younger crowd, unless you can pull it off, of course.
Other Options
If you are looking for other fougère style fragrances, but not interested in Penhaligon's Sartorial, then a great option is Dior Sauvage. It is a more modern version if you do not want to smell like an older gentleman. It is widely popular, and it will bring you lots of compliments.
Another choice is Versace Pour Homme. It is a little more modern, but not quite in the same style as Dior Sauvage. Versace Pour Homme is a fresh, blue fragrance that smells great.
Overall Rating
| | |
| --- | --- |
| Review | Penhaligon's Sartorial |
| Summary | Penhaligon's Sartorial is a non-traditional Fougere barbershop fragrance that incorporates unique notes of steam, honey, beeswax, and pepper. |
| Author | Country Club For Men |
| Rating | 4.4 (out of 5) |