Versace is a renowned Italian luxury fashion brand that offers a wide range of products, including fragrances. Two of their most popular fragrances are Eros and Dylan Blue.
These fragrances have a distinct and unique aroma that appeals to both men and women. In this article, we will compare Versace Eros and Versace Dylan Blue to help you make an informed decision when choosing the right fragrance for yourself or as a gift for someone special.
In a hurry? Here is our quick summary:
Versace Eros: Sweet apple and vanilla fragrance that is great for clubbing and dates. Appeals to a younger crowd. It is more expensive but lasts a little longer.
Versace Dylan Blue: Blue fragrance that is very versatile. Great for everyday wear and for the office. Good for year round wear. Mass appealing.
Scent Comparison
Versace Eros EdT is a sweet vanilla and apple scent while Dylan Blue is a crowd pleasing blue fragrance with notes of bergamot, ambroxan and pepper.
Versace Eros has top notes of mint, lemon, and green apple, while its heart notes include tonka bean, ambroxan, and geranium flowers. The base notes of Eros include vanilla, vetiver, oakmoss, and cedarwood.
On the other hand, Versace Dylan Blue has top notes of bergamot, grapefruit, and fig leaves. Its heart notes include violet leaves, black pepper, and papyrus wood, while its base notes include musk, incense, and tonka bean.
Scent: The scent of Versace Eros is refreshing and invigorating, with a strong fruity and minty aroma. It has a dominant masculine scent that makes it perfect for wearing during the day or at night. The mint and lemon in the fragrance provide a refreshing burst, while the tonka bean and ambroxan add a slightly sweet and warm aroma. It is widely known as one of the most popular clubbing fragrances. Women love to smell it on guys.
We also have a more in-depth review of Versace Eros Eau de Toilette.
Versace Dylan Blue has a more complex scent, with a blend of fresh and spicy notes. The bergamot and grapefruit provide a fresh and zesty scent, while the black pepper and papyrus wood add a spicy and woody aroma. The musk, incense, and Tonka bean add a warm and musky base to the fragrance. Dylan Blue is a versatile scent that can be worn during any season. This is an extremely versatile scent.
Here is our review of Versace Dylan Blue.
Longevity And Projection Compared
Longevity
Eros: Moderate-Long Lasting
Dylan Blue: Moderate-Long Lasting
Sillage
Eros: Moderate-Strong
Dylan Blue: Moderate
Packaging Comparison
Versace Eros comes in a blue bottle with a Medusa head design. The bottle has a luxurious feel and looks sophisticated. The cap of the bottle is gold, which adds a touch of elegance.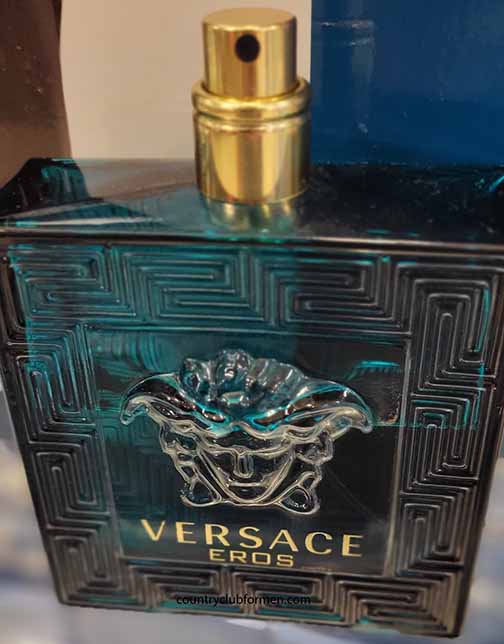 Versace Dylan Blue comes in a blue bottle with a metallic cap. The bottle has a minimalist design, which looks elegant and modern. The metallic cap adds a touch of luxury to the bottle. The sprayer is gold with "Versace" on it.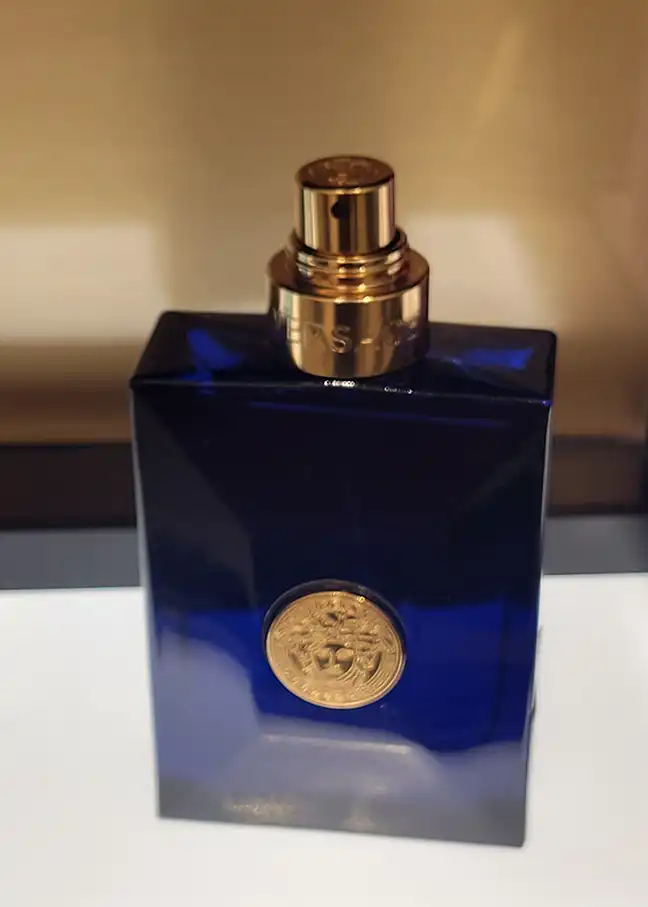 Occasions
To me, Versace Eros is more than a clubbing fragrance. Don't get me wrong. It is a great scent to wear out to bars to meet the ladies. But, you can go lighter on the sprays and wear it to work or most anywhere. Just make sure to spray less than you would for a night out at a crowded bar.
Dylan Blue is the ultimate blind reach fragrance. At least to me it is. It is great when I am in any mood, and I wear it formally, casually, to church, or to work. It is casual and classy. I really like Dylan Blue a lot. Even though it is a mass pleasing "Blue" scent, I get a lot of use from it even though I have a large collection.
Price Differences
Versace Eros is a more expensive than Versace Dylan Blue. Eros is available in different sizes, including 1.7 oz, 3.4 oz, and 6.7 oz. A 3.4 ounce bottle is around $85.
Versace Dylan Blue is less expensive. It is available in 1.7 oz, 3.4 oz, and 6.7 oz bottles. A 3.4 ounce bottle is around $55.
Pros And Cons Of Versace Eros EdT vs. Dylan Blue
Versace Eros
Pros:
A refreshing and invigorating scent that is perfect for wearing during the day or at night
Longevity and projection are excellent, making it a long-lasting fragrance that can be smelled throughout the day
The bottle has a luxurious feel and looks sophisticated
Affordable compared to other high-end fragrances
Cons:
The strong projection may be overpowering for some people
The fruity and bubblegum scent not for everyone
The warm and sweet aroma of Tonka bean and Ambroxan may be overwhelming for some people
Versace Dylan Blue:
Pros:
Versatile scent
Great Price
Good Longevity and Sillage
Crowd Pleaser
Cons:
Generic smelling
Harsh metallic scent for some
Final Thoughts
I personally do not get a lot of use from Versace Eros EdT anymore. It is a little too sweet and young smelling for me. It still smells incredible, it is just not for me.
Dylan Blue is still something a spray on myself often. Both of these fragrance made our list of the top smelling Versace colognes for men. Eros is probably the more popular one overall, but my choice is on Dylan Blue.