Club De Nuit Intense Man (CDNIM) is one of the more popular clones of Creed Aventus. I like this fragrance, and it has a lot of similarities to Aventus. Even if you take away that it is a dupe, CDNIM can stand on its own as a great smelling fragrance.
This fragrance is made by Armaf which is under the umbrella of Sterling Perfumes. This is a Middle Eastern fragrance house, but it is made in Paris.
I will provide a review to try and give you a better understanding of what this smells like and how it performs.
Overview
Brand: Armaf
Related To: Sterling Perfumes
Manufactured: Paris, France
Concentration: Eau de Toilette (EdT)
Sizes: 3.6 oz., 6.8 oz.
Fragrance Type: Woody Spicy
Year Launched: 2015
What Does Club De Nuit Intense Man Smell Like?
Club De Nuit Intense Man smells like lemon, black currant, birch and ambergris. It is very similar to Creed Aventus, but it has a strong lemon scent in the opening. Overall, CDNIM is a masculine scent.
Top Notes: Lemon, Pineapple, Bergamot, Apple, Black Currant
Middle Notes: Birch, Jasmine, Rose
Base Notes: Musk, Ambergris, Patchouli, Vanilla
I really like the smell of Club de Nuit Intense ManEdP. It is a great smelling fragrance that will garner lots of compliments.
My Review
CDNIM was highly touted from YouTube fragrance reviewers, and it all of a sudden became extremely popular.
When you first spray it on, it has a harsh lemon opening. After a few minutes, the lemon scent dissipates, and the notes of black currant and birch start to come out more. It is very strong and harsh. This is due to the patchouli, Ambergris, and musk.
After the scent settles down a bit, it becomes a heavy smoky citrus scent. It can be a bit synthetic and screechy, but it is a low cost clone after all. It leaves a nice scent trail, and it pulls a lot of compliments.
The batch code for my review is 346772.
Longevity And Projection
Club de Nuit Intense Man lasts for 10 hours or more and it will project up to 3 feet away. Longevity is where this fragrance shines.
The first time I sprayed this fragrance in the air, it lasted for hours. Yes, 1 spray in the air in my den. Several hours later when I came back, the scent was still there.
When Should You Wear Club De Nuit Intense Man?
Club De Nuit Intense Man can be worn anytime of year from summer to winter. It has citrus freshness, and it has warm musk with Ambergris and woods. It also has the strength to punch through winter weather.
If you are going to wear it to work, make sure not to overspray. It is very strong and lasts all day long. Your co-workers will still be smelling you late in the day.
For standard wear, 4 or 5 sprays will be plenty. You will leave a nice scent trail, but it will not be too overpowering. For work
Packaging And Presentation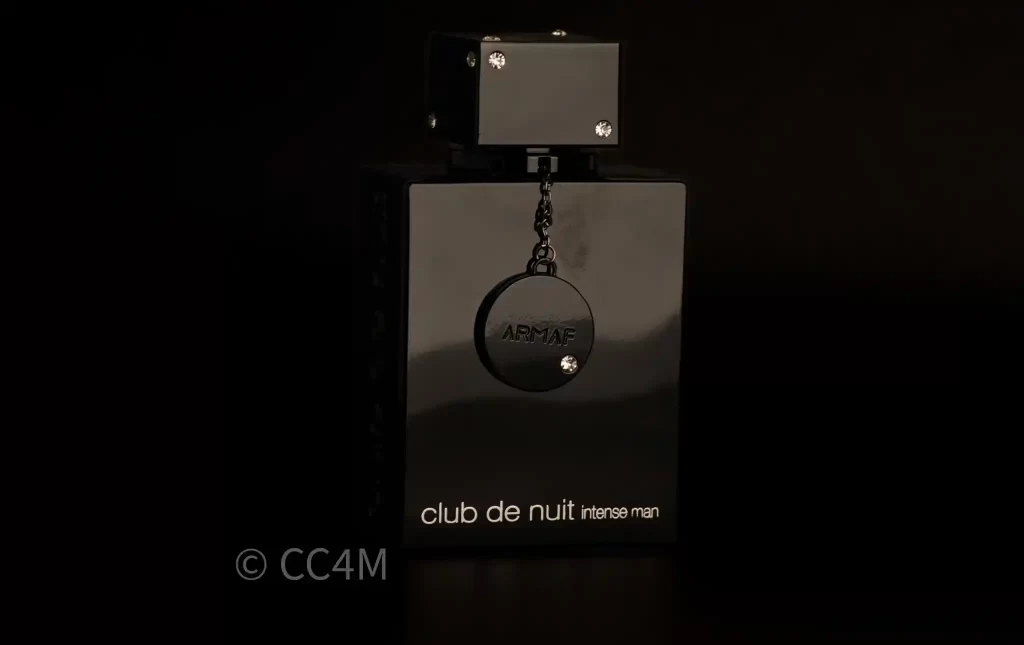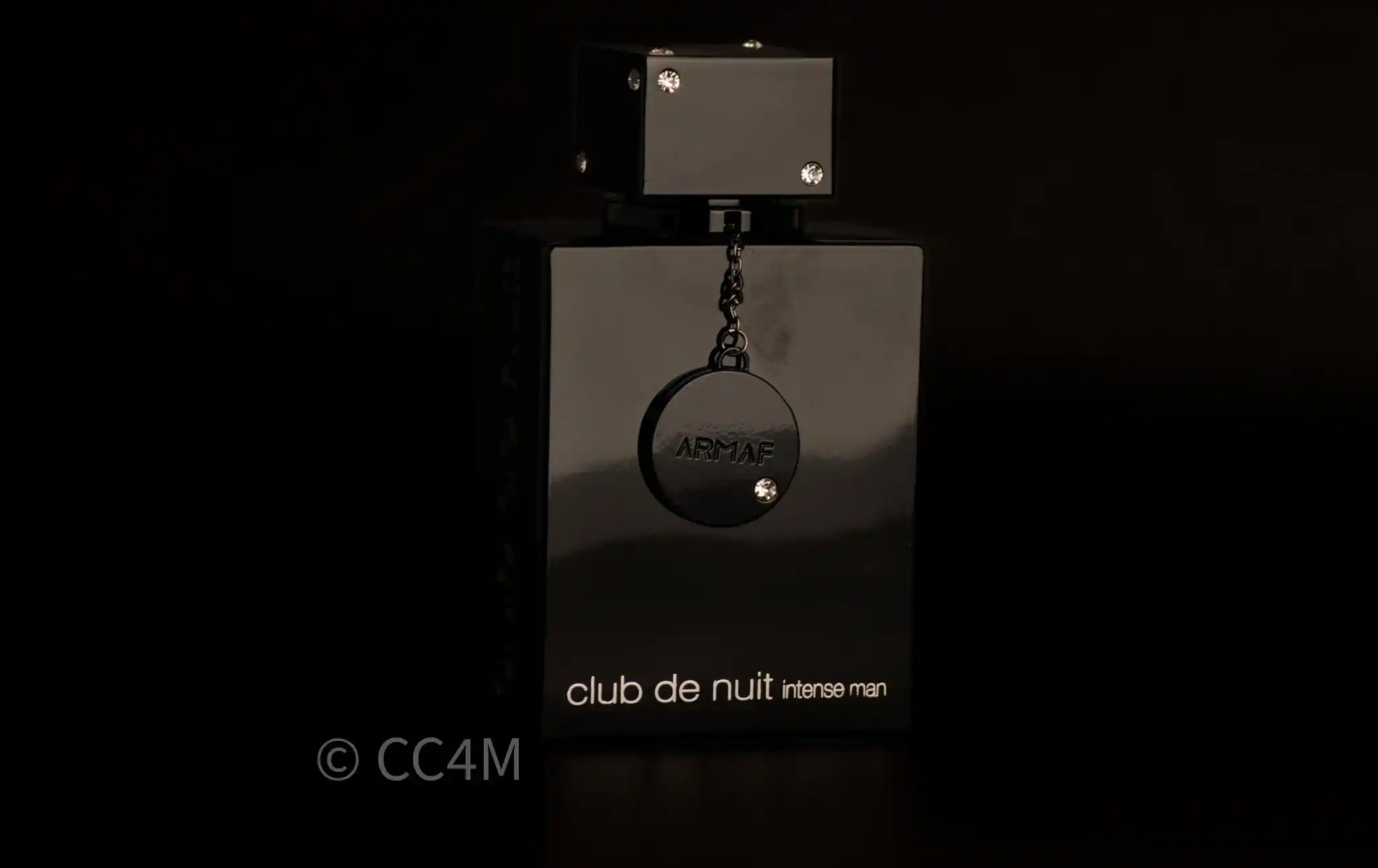 Club de Nuit Intense Man comes in a shiny black bottle that is heavy. It has a round Armaf medallion stuck to the front. It looks like it is hanging, but it cannot be removed. It also has a fake diamond in it.
The cap is square and each side has 2 fake diamonds in it.
The box it comes in is very similar to the bottle style. The box is a light black color and it is rough. It feels like non-smooth wallpaper. It has a shiny round circle on it with a fake diamond in it.
The presentation definitely has the Middle Eastern flair to it.
Pros And Cons
Pros
Affordable
Close to Creed Aventus
Strong and long lasting
Gets compliments
Cons
Synthetic opening
Lemon household cleaner scent
Strong smoky scent off putting to some
Should You Buy CDNIM?
If you want to smell similar to Aventus at a fraction of the price, then you should buy CDNIM. Even if you do not know what Aventus smells like, this is a great fragrance on its own. For under $30, this is worth it.
If you are into expensive niche fragrances, then this may come off too synthetic and harsh smelling. For a copy of Creed Aventus, it does a good job. It is also nice enough to wear even if you are not looking for an Aventus clone.
Do Women Like The Scent Of CDNIM?
Club de Nuit Intense Man is a seductive scent that women love. The scent trail is alluring, and it will bring you a lot of compliments. Most women will not even know it is a clone.
I have gotten compliments from a lot of ladies when I wear this. From young to older, it has a high range of likeability.
What Do Other Reviewers Say About CDNIM?
Here are a couple of video reviews from others on what they think about Armaf Club de Nuit Intense Man:
Fragrances Similar To Club De Nuit Intense Man
Club De Nuit Intense Man Parfum: There is also a Parfum concentration for CDNIM. This was released in 2022. This is a stronger version that smells more similar to Creed Aventus. The harsh lemon opening is there, but if you can get past that, this is a real nice fragrance. It is not as harsh and screechy as the EdT.
Club De Nuit Intense Man Limited Edition Parfum: The Limited Edition Parfum has more notes, and it is more complex. This fragrance is very strong and has unbelievable projection. To my nose, it is still close to Aventus.
Resources: