Bertrand Duchaufour is a name synonymous with creative genius and innovation in the world of perfumery. As a master perfumer, he has carved a niche for himself, leaving an indelible mark on the fragrance industry with his unique and extraordinary creations. We delve into the life and career of Duchaufour, exploring his impact on the fragrance world through his innovative techniques, collaborations, and avant-garde approach to scent making.
Early Life and Education
Born in 1962 in the picturesque region of Cognac, France, Duchaufour was drawn to the world of perfumery from a young age. Heavily influenced by his mother, a passionate gardener, and his father, an avid wine connoisseur, Duchaufour was exposed to a diverse range of scents and aromas that would ultimately lay the foundation for his career. France is known for several great Master Perfumers like Jacques Polge.
Duchaufour's educational journey began with a focus on fine arts, but it wasn't long before his passion for scent took center stage. He enrolled in the prestigious École Nationale Supérieure des Industries du Parfum, de la Cosmétique et de l'Aromatique Alimentaire (ISIPCA) in Versailles, where he honed his skills under the tutelage of industry giants like Jean Carles and Edmond Roudnitska.
The L'Artisan Parfumeur Years
In 1996, Duchaufour joined the renowned fragrance house L'Artisan Parfumeur, marking the beginning of a longstanding and fruitful partnership that would last over a decade. During his tenure as the in-house perfumer, Duchaufour created a number of groundbreaking fragrances that solidified his reputation as a visionary in the industry. Among his most notable creations are:
Timbuktu (2004) – Inspired by his travels to Mali, Duchaufour crafted a fragrance that captured the essence of African culture and landscape, blending exotic notes of vetiver, patchouli, and papyrus with the warmth of incense and myrrh.
Dzongkha (2006) – Drawing inspiration from the remote Himalayan kingdom of Bhutan, Duchaufour crafted a scent that evoked the serenity and spirituality of the country, using notes of iris, tea, and incense to create a truly unique olfactory experience.
The Independent Perfumer
In 2008, Duchaufour decided to step away from his role at L'Artisan Parfumeur and venture out on his own as an independent perfumer. This move allowed him the freedom to work on a variety of projects and collaborate with numerous brands, further expanding his creative reach. Even though he was independent, he still took on work from L'Artisan Parfumeur.
Currently, he works for Technicoflor which creates perfumes and trains in perfumery.
Collaborations and Impact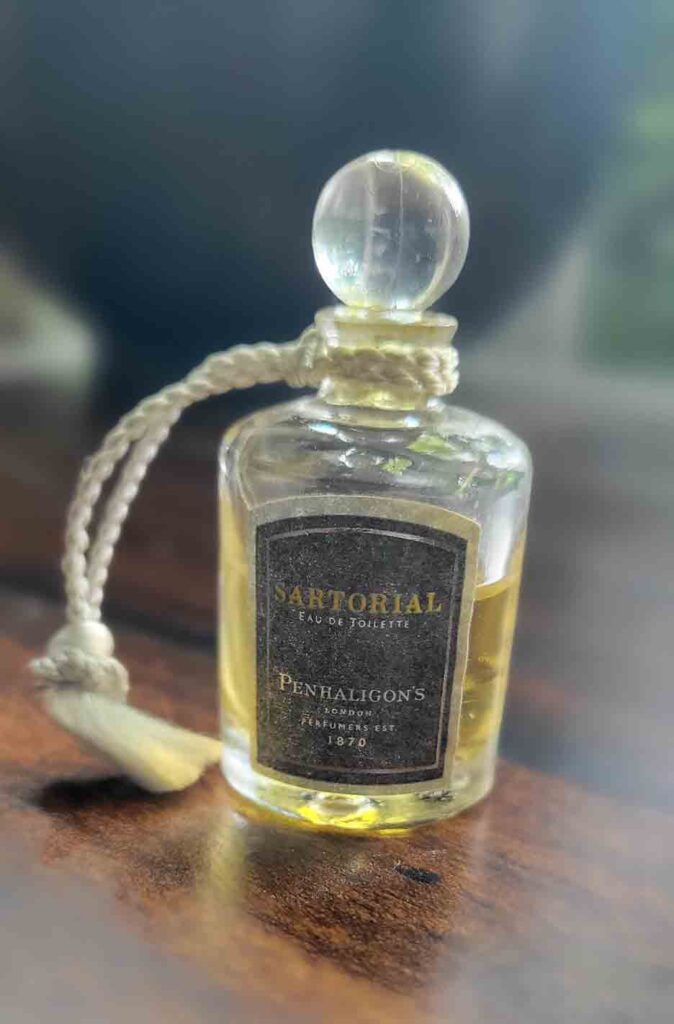 Duchaufour's collaborations with niche and luxury fragrance brands have solidified his status as a leading perfumer in the industry. His partnerships with brands such as Penhaligon's, Eau d'Italie, Amouage, and Neela Vermeire Creations have resulted in some of the most acclaimed and sought-after fragrances in recent memory. A few standout collaborations include:
Amouage – Jubilation XXV (2008) – Duchaufour's first collaboration with the Omani luxury fragrance house resulted in an opulent and regal scent that combined the richness of oud, incense, and blackberry with the warmth of amber, honey, and cinnamon.
Penhaligon's – Sartorial (2010) – With this fragrance, Duchaufour sought to capture the essence of a bespoke tailor's workshop, using notes of metallic sheen, beeswax, and leather to evoke the atmosphere of London's Savile Row. The result is a modern classic that has earned critical acclaim and a loyal following.
Neela Vermeire Creations – Trayee (2012) – In collaboration with Indian-born, Paris-based niche perfume creator Neela Vermeire, Duchaufour crafted a scent inspired by the ancient Vedic texts of India. Trayee is a complex and enchanting blend of spices, incense, and woods, representing a sensorial journey through India's rich history and spirituality.
Innovative Techniques and Ingredients
Duchaufour's approach to perfumery is characterized by his willingness to push boundaries and experiment with unconventional techniques and ingredients. His innovative use of headspace technology, a method that captures the scent molecules of living plants and flowers, has enabled him to recreate the aromas of rare and elusive botanicals in his fragrances.
Furthermore, Duchaufour's penchant for incorporating unusual ingredients, such as cactus flower, aldehydes, and seaweed, has added a unique and unexpected twist to his creations, making them stand out in an increasingly crowded market.
Legacy and Influence on the Fragrance Industry
Bertrand Duchaufour's impact on the fragrance industry is undeniable. His innovative approach to scent creation, combined with his skillful blending of traditional and modern techniques, has led to the creation of some of the most memorable and beloved fragrances in recent history.
Duchaufour's influence extends beyond his own creations, as he has also inspired a new generation of perfumers who share his passion for pushing the boundaries of conventional perfumery. His willingness to take risks and explore uncharted territories has helped elevate the art of fragrance-making and redefine what it means to be a perfumer in the 21st century.
Bertrand Duchaufour Top Fragrances
Timbuktu (2004) – L'Artisan Parfumeur
Avignon (2002) – Comme des Garçons
Sartorial (2010) – Penhaligon's
Traversée du Bosphore (2010) – L'Artisan Parfumeur
Jubilation XXV (2007) – Amouage
Paestum Rose (2006) – Eau d'Italie
Nuit de Tubéreuse (2010) – L'Artisan Parfumeur
L'Eau d'Ambre Extrême (2001) – L'Artisan Parfumeur
Dzongkha (2006) – L'Artisan Parfumeur
Enchanted Forest (2012) – The Vagabond Prince