Sonos has changed the game for the home entertainment industry. Their motto is Brilliant Sound Your Way.
Sonos is a wireless music system that you can play over your WiFi.
This means you can create and customize your listening experience the way that you want to. It has all the bells and whistles plus they have superior sound quality.
You can control your entire system from an app which makes it very efficient, and the bonus is no more extra remote laying around to get lost!
So, is Sonos good for home theaters? Yes, it is one of the premium wireless home theater systems on the market.
This is not a cheap system, so it is important to understand what you need before you make any purchases.
What Are The Benefits Of Sonos?
Control
One of the best benefits of the Sonos system is the ability to control the system throughout your house.
We don't mean you can just listen to it all over your house, we mean that you can control each component separately, or you can use it as one whole system.
Imagine someone outside listening to the Beatles on a Sonos outdoor speaker, and another person is in the kitchen listening to Dr. Dre.
They are both using one system, but it allows you to listen to different things from the same system.
Then, breaking news comes on the TV, and then you change the sound to play the news throughout the house on all the speakers. That is the control you get with Sonos.
The app lets you set up different zones throughout your home, and you can control different sources from it.
Some examples of different sources would be Amazon Music which would be an internal source on Sonos, and it lets you control outside sound sources like your TV or a turntable.
Sonos Works with Streaming Music Services
Another feature is the Sonos home theater also works with all your favorite services. It works with Spotify, Apple Music, Amazon Music, SiriusXM, and many more. There are around 30 services that it works with.
It has built in voice control on some of their options. Sonos works with Alexa and Google Assistant.
It's Wireless
Another huge benefit is no more wires running all over your house, and this also means that you have more flexibility when placing them around.
It's also very easy to take your sound into another room, or you can get the Sonos Move which is weather resistant so you can take it outside.
You will need a good and strong wifi signal. Homes are becoming more smart and more reliant on wifi, so if your network is already bogged down, it might be time for an upgrade before getting more new toys.
Superior Sound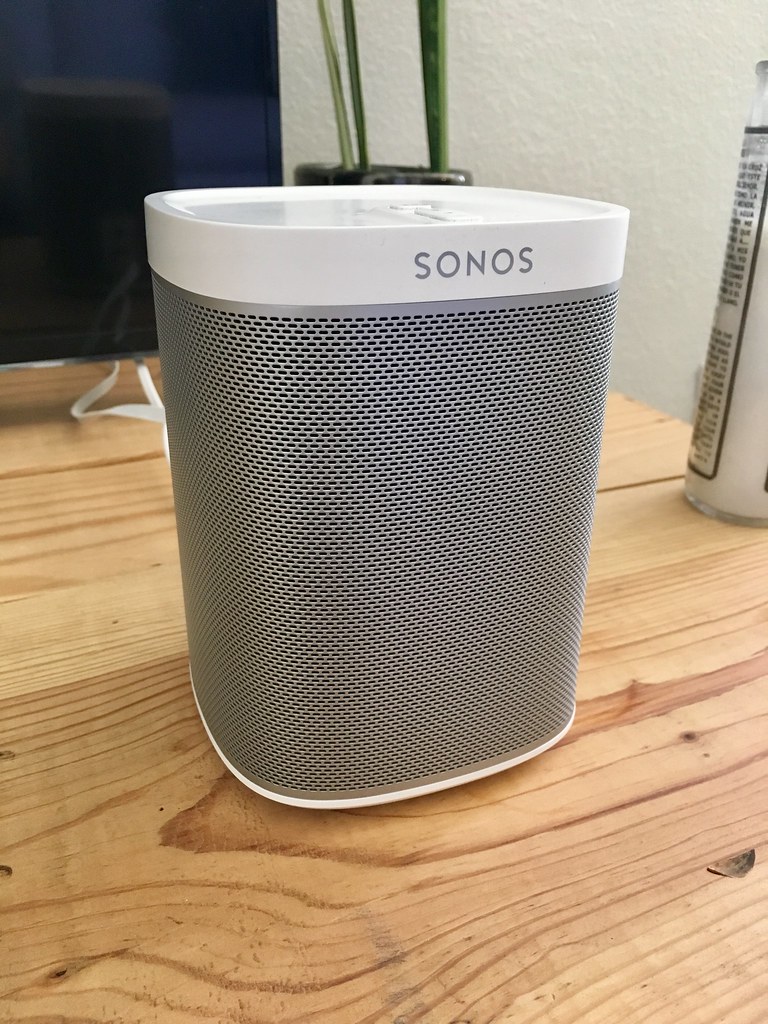 We can talk about all the features it has, but does it live up to the hype in the sound quality department?
The answer is yes. Sonos speakers are small but their sound is incredible. If you don't believe us, you can read lots of reviews here.
And, you can do all of this from your smart phone or tablet.
Sonos Home Theater Setup And Design
When it comes to the design of your system, the first thing to consider is your budget. The good news is that you can slowly add the pieces you need based on what is the most important to you. If you don't have the funds for a Sonos 5.1 surround home theater system, then you will have to plan on getting just the front channel soundbar.
We are going to assume that television sound is your #1 priority since this article is about home theater information.
Front Channel Sound
The starting point is your front channel sound, and due to the flexibility of Sonos, this can be setup different ways. They offer 3 different choices for soundbars.
---
The 1st option is the Sonos Playbar. This is a mountable soundbar that you can mount under or above your TV.
This speaker was designed by engineers to emphasize the sound of the human voice. This is exactly what you want from a front speaker
9 Class D digital amplifiers
9 Dedicated speaker drivers (6 mid-woofers / 3 tweeters)
Adjustable controls
Plays audio from PCM stereo and Dolby Digital sources
Dimensions: H x W x D
While mounted: 5.51 x 35.43 x 3.35 in. (140 x 900 x 85 mm)
While resting: 3.35 x 35.43 x 5.51 in. (85 x 900 x 140 mm)
---
The 2nd option that they offer is the Sonos Beam soundbar. This is a smaller version that costs a little less, but it does come with voice control built it like Alexa and Google Assistant.
If you require a soundbar to have that, then your only option is the Beam.
The beam has 4 full range woofers and one tweeter, so it is not quite as dynamic as the Playbar. This biggest difference here is the microphones on it for the voice recognition.
---
The 3rd option is the Playbase. It is designed to slide under your television, or you can actually use it as a base and put your TV on top of it.
---
For the front audio, you can use one of the sound bars or you can set up a 3.1 or 5.1 home theater system by adding more speakers.
Sonos 3.1 Home Theater Setup
This will utilize the soundbar, such as the Playbase along with a subwoofer.
The addition of the Sonos Sub will allow for a more deep and realistic sound from your television. The subwoofer does not look traditional, which is a good thing.
The design features two speakers that actually use each other to cancel out unwanted vibrations.
It has a very sleek design so that it won't look out of place. If you want to hide it, you can do that as well because we are just getting low frequencies from it. You can hide it under the couch or behind some other furniture.
It comes in either black or white, but the sleek white color may cost a bit more.
Sonos 5.1 Home Theater Setup
This is the ultimate setup for a Sonos surround system. This features the Playbar, Sonos Sub, and two One SL's.
This setup provides front channel, low frequency sub, and 2 rear surround speakers.
You can order the bundle, or you can purchase everything individually. If you don't have the budget for the whole system, you can always start with the soundbar, and then add the sub and surround later.
We have not discussed the regular Sonos speakers yet. The SL which comes in the package listed above, is a microphone free version which means no voice.
The other speaker that is the same size is the Sonos One which does have voice control.
The larger and more expensive speaker offering is the Play:5. These are beasts and incredibly good speakers.
You can use these as your rear speakers, but you should have excellent results with the lower priced SL's.
Can I Use Sonos With My Wired Home Theater System?
Yes, you can use Sonos with your home theater system, but, you will need a Sonos Connect to do that.
The purpose of this is to take your wired system, and integrate it throughout your home with a wireless Sonos system.
Summary Of Sonos Home Theater
Is the Sonos system worth it. Well, I can't answer that for you. That depends on what exactly you need, and the biggest factor is your budget.
You are looking at over $1,000 for a good setup if you are getting more than just a TV soundbar.
Are they incredible products? Yes, they are. Most anyone would take a free set of these, and they would be far superior to what most people are using now for home theater sound. So, they are good and worth it, if the cost is not a big issue to you.
(images provided by creativecommons)